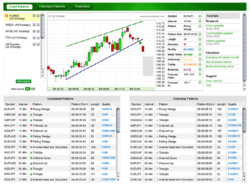 Autochartist prides itself on the quality of its product
(PRWEB) June 07, 2011
MF Global is excited to announce the launch of the Autochartist market scanning software to its clients, free of charge.
Autochartist is a pattern recognition tool that will be indispensible for both new and experienced traders. The Autochartist features will be of considerable benefit to traders of trend and swing trading styles alike. MF Global clients are now offered a comprehensive educational resource and research centre, with advanced traders now able to scan markets for specific opportunities that match their own bespoke trading strategies.
Autochartist scans a wide range of instruments, including Equities, FX and Index markets, insuring traders benefit from easy access to market opportunities. Autochartist is available to all existing on-line account holders and is a welcome addition to MF's existing Research and Market Analysis.
"Autochartist will be a valuable tool for our clients who are interested in pattern recognition and technical analysis. MF Global are continually looking for ways to help our clients with their trading requirements and believe Autochartist will be a useful trading tool". Anthony Anderson, Head of CFDs, MF Global Australia Limited.
Ilan Azbel, CEO of Autochartist.com said "It is a great honour to have a company such as MF Global choose Autochartist to provision technical analysis services to its customers. Autochartist prides itself on the quality of its product and it is no doubt that MF Global's customers will enjoy using it".
About MF Global
MF Global is one of the world's leading brokers of commodities and listed derivatives. MF Global delivers trading and hedging solutions as a broker-dealer across all major markets for futures and options, commodities, fixed income, equities and foreign exchange. The firm is one of 20 primary dealers authorized to trade U.S. government securities with the Federal Reserve Bank of New York. The firm provides access to more than 70 exchanges around the world and is a leader by volume on many of the largest derivatives exchanges. MF Global helps clients discover and capitalize on market opportunities by providing actionable insight, market expertise and deep liquidity.
Autochartist.com is the market leader in automated technical analysis services for retail traders. The Autochartist suite of tools services many of the world's largest financial institutions and has become one of the world's best known brands in technical analysis.
###