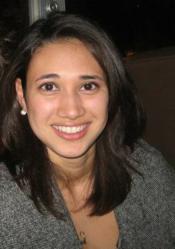 Kirkland, WA (PRWEB) May 27, 2011
The latest winner of SR Education Group's $2000 tri-annual study abroad scholarship is Jennifer Talbott. Jennifer beat out over one hundred other applicants to receive the award. She plans to study abroad in Pune, India.
Jennifer grew up in Jamestown, Ohio, and currently attends the prestigious University of Chicago. She studies comparative human development and plans to enroll in the Peace Corps after graduation before attending medical school. For her study abroad experience, Jennifer wanted to make sure that she was out of her comfort zone and experiencing something completely new and exciting. The program offered by her school in Pune, India seemed like the perfect fit. In Pune she will be learning the Hindi language, as well as studying India's literature, religion, art, and society.
Jennifer says that as a comparative human development major, she is especially interested in the cultural psychology, comparative behavioral biology, and sociology lessons being offered in her program. Beyond this, it was important to Jennifer to pick a program that aligned with her passion for social service. She regularly volunteers for organizations that address the social and medical needs of individuals in the Chicago community and wishes to expand her volunteering internationally. Next summer she hopes to work with an organization that matches premedical students with clinics in high need areas around the globe. Studying abroad in Pune will not only help her adjust to living in a very different culture from her own, but she will have the opportunity to visit clinics in the area and become familiar with the healthcare system. Jennifer has been preparing to pay for her trip through a part-time job during the school year, as well as saving up money from summer jobs. The $2000 from SR Education Group will certainly help facilitate her ability to make this trip a reality.
SR Education Group has been giving out the study abroad scholarship through its flagship site, Guide to Online Schools, for two years now. Thus far, five students have been awarded scholarship money and winners have traveled to a variety of interesting and exotic locations, including Peru, Sierra Leone, and Palestine. Students applying for the scholarship must answer four open-ended essay questions regarding what they hope to get out of their study abroad experiences. SR Education Group then picks the student they feel has demonstrated the most compelling reasons to study abroad.
SR Education Group would like to congratulate Jennifer on her win and wish her the best of luck on her travels and future endeavors.
ABOUT SR EDUCATION GROUP: SR Education Group's aim is to connect individuals to an educational path that meets their unique needs. The organization strives to do this by offering trustworthy, authoritative, and transparent information on both online and traditional institutions. Their flagship site, Guide to Online Schools, partners with over one hundred and twenty accredited schools and gives out six scholarships a year. Follow them on Facebook and Twitter for education and financial aid updates and be sure to check out their scholarship homepage.
###