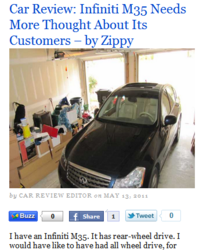 All you wannabe writers, here's your chance.
Irvine, CA (PRWEB) May 27, 2011
Consumer car research website, zAutos.com, is having a consumer car review competition. Auto enthusiasts, would-be writers, amateur photographers and just-plain consumers over the age of 18 can express themselves and have a chance at winning a new iPad2 or a $400 gift card from American Express.
The rules are simple: Provide an original car review and four good quality digital pictures of the vehicle reviewed. It can be any vehicle, one that the reviewer owns or that of a friend. The reviewer simply writes a short review, take lots of pictures with a digital camera, selects the best four photos and submit the photos with the written review online at zAutos.com.
While writing the review, the reviewer should be analytical and accurate in observations about the appearance, performance, and handling of the vehicle. High quality technical data is not required, but it could help increase the chances of winning a prize. Reviewers are free to quote automobile publications if they fill it will enhance the review. Reviewers are also encouraged to tell readers something they might not know about the vehicle.
zAutos recommends that reviewers should personalize the review. Reviews should have stated opinions about the vehicle. Reviewers should note likes and dislikes of each facet of the car, light truck, crossover, minivan or SUV.
To submit an entry, go to zAutos.com, click on the "car review" tab and then locate the "submit your car review" link on the left side of the page. A submission form will appear: fill out the form and upload the vehicle photos. Contestants should provide contact information so that zAutos may notify them if they should win.
The zAutos.com Car Review Competition began on May 10, 2011. All entries must be submitted by July 10, 2011 and the contest winners will be announced on August 10, 2011.
About zAutos.com
zAutos.com is committed to providing automotive consumers and enthusiasts premium online tools. Automotive consumers can choose from several online applications that will assist them in making intelligent buying decisions: vehicle eBrochures, car reviews, car videos, invoice pricing and build a car. Automotive enthusiasts can enjoy current auto news and a forum to express their interest and enthusiasm for the cars they love.
###