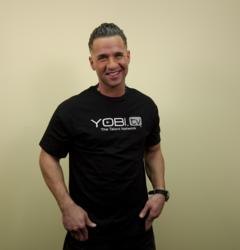 Detroit, Michigan (PRWEB) May 31, 2011
YOBI.tv, the Internet's premiere site for interactive talent competitions, has named the two grand prize winners of its YOBIAct acting competition hosted by "The Jersey Shore" star Mike "The Situation" Sorrentino. These two aspiring actors will receive paid contracts to work in a web series starring Sorrentino and written/directed by filmmaker K. Asher Levin.
The winners are:
Ashley Gerke – Baltimore, Maryland
A contract for a role as contest judge in the "Random Talent" web series
Dominic Chizzoniti – Farmingdale, New York
A contract for a role as producer of the television show in the "Random Talent" web series
The "Random Talent" comedy web series will star Sorrentino as an over-the-top hip hop star asked to be a judge on an "American Idol"-style televised singing competition. It will also star the winner of YOBI.tv's season one comedy contest (and frequent BBC contributor) Ben Green.
Production on "Dream Maker" will begin in mid-July in Detroit, Michigan.
YOBI.tv has also announced that season four of its YOBIAct, YOBISing, YOBIFilm, YOBILaugh and YOBIPics contests will begin on June 1, 2011. In a change from previous seasons, these contests will run for only two months, with winners chosen in the Sing, Film, Laugh and Pics contests at the end of each month. The Act contest will last for seven consecutive weeks followed by a ten-day voting period in which a male and female winner will be chosen from among the finalists.
All winners will earn the chance at worldwide recognition for their talents by working on YOBI.tv's next web series alongside a Hollywood celebrity, yet to be announced. This series will film in early fall 2011.
Prizes for each contest include:
YOBIAct: Male and female winners earn major roles in all thirteen episodes of the web series.
YOBISing: Each winner's music will be featured in at least six episodes of the series, and he or she will personally appear in at least three episodes.
YOBILaugh: Each winner will be featured in at least 6 episodes of the web series.
YOBIFilm: Each winner will have an appropriate and credited role in the production of the series.
YOBIPics: Each winner will be the on-set photographer during the filming of at least 6 episodes of the series.
All prizes will include airfare to and from Detroit and accommodations during production.
YOBI.tv is a user-based interactive talent competition encompassing the fields of acting, singing, comedy, filmmaking and photography. With its namesake the yobibyte, the largest assignable unit of digital information, YOBI.tv strives to be the largest gathering place in the world for aspiring talent and the future of entertainment.
# # #