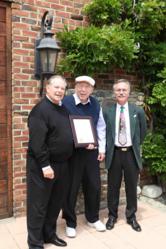 We are proud that the first bottle of varietally labeled Petite Sirah was created in the Livermore Valley by Jim Concannon, "Father of American Petite Sirah
Livermore, California (PRWEB) May 29, 2011
Livermore Mayor Marshall Kamena today honored Jim Concannon, 3rd generation vintner, Concannon Vineyard for his contributions to the Livermore Valley and California wine industry. The Mayor paid tribute at Born to Rhône; an annual event that celebrates Concannon Vineyard's pioneering work with grape varieties from the Rhône Valley.
In the 1880s, the Concannon family chose to settle in the Livermore Valley whose rocky, gravelly soil resembled the Rhône region in France. Others followed, and by the mid 1890s, Livermore had well over one hundred vineyards planted, mostly with grapes from the Rhône.
The tenth anniversary of Born to Rhone coincides this year with Concannon's 50th Anniversary as America's First Petite Sirah. During Born to Rhône, which takes place each year over Memorial Day weekend, the winery opens its cellar to visitors to celebrate its acclaimed Rhône wines including the 2000 Heritage Reserve Petite Sirah, made from selected lots of "Old Vine" Petite Sirah from the original Concannon property, and the much anticipated 2010 Reserve Viognier.
"Thanks to the pioneering spirit of the Concannon family and others who imported vines from the Rhône, Livermore is now firmly planted on the world wine map. We are proud that the first bottle of varietally labeled Petite Sirah was created in the Livermore Valley by Jim Concannon, "Father of American Petite Sirah," stated Kamena.
"Jim Concannon is truly an icon of Livermore Valley. He has always been all about family and community," stated John Marchand,Vice Mayor of Livermore.
A cross between Syrah, the noblest Rhône variety, and Peloursin, a lesser known Rhône variety, Petite Sirah was developed to resist the powdery mildew that attacks Syrah. However, the tighter clusters of the new grape did not adapt to the humidity in Southern Rhône where Petite Sirah is practically extinct. Petite Sirah vines were imported from the Rhône by the Concannons over one hundred years ago flourished in sunny, dry Livermore. Of the Rhône varieties in the U.S., Petite Sirah is among the oldest. Syrah, the parent grape, is relatively new to California as are Viognier and Grenache.
"The growing popularity of Rhône-style wines in the United States speaks to their versatility with food. With twenty-two grape varieties, American Rhônes offer a wide range of flavors, capable of pairing with delicate fish or rich gamey meats. Over the last several years, the skills of the Rhône Rangers' winemakers have grown and the wines are developing beautifully with Petite Sirah capable of being aged for twenty or more years. Acreage planted to Rhône grape varieties is rising particularly in California, Washington and Oregon, where growing conditions are exceptionally well-suited, "stated Cheryl Quist, Executive Director, Rhône Rangers.
"Concannon Vineyard has enhanced the quality of over 200 estate vineyard acres while ensuring the blocks of old, time–tested vines are preserved and the best of the Rhône vine clones that Concannon pioneered are perpetuated," stated John Concannon, 4th generation vintner.
With four generations of family involvement, Concannon Vineyard's pioneering contributions to viticulture and winemaking have positioned it as a landmark winery with an enduring commitment to creating outstanding, award-winning wines. Founder of America's First Petite Sirah, Concannon introduced Cabernet Sauvignon clones 7, 8 and 11 which provided the backbone of Napa Valley's Cabernet resurgence in the 1970s and 1980s. With Concannon wines served on family tables for over 128 years, the pioneering winery has invested millions to revitalize its estate vineyards and restore its historic winery, ensuring that future generations continue to enjoy world-class wines envisioned by its founder James Concannon. For additional information, please visit Concannon Vineyard.
For more information or to interview Jim or John Concannon, contact Patricia Schneider 415/717-7595 or psa(dot)patricia(at)gmail(dot)com.
# # #