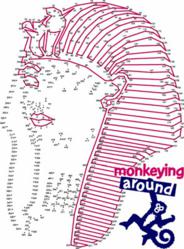 I think it's important for Americans to try to help our economy by keeping jobs and money in the USA.
Rochester, NY (PRWEB) June 07, 2011
David Kalvitis, President of Monkeying Around Publishing, has announced that his Greatest Dot-to-Dot book series has earned the Made in USA brand. Bucking the trend of taking printing needs overseas, Kalvitis's puzzle books have been made exclusively in the US for over ten years, although it wasn't until recently that his books were recognized by the Made in USA brand. In the near future all of his books will carry the Made in USA brand logo.
Kalvitis takes pride in his books, as well as the fact that every component of his books is manufactured by American businesses. In fact, every part of The Greatest Dot-to-Dot books, from the designs to the ink is created on the East Coast of the United States. Kalvitis states, "I think it's important for Americans to try to help our economy by keeping jobs and money in the USA." And for over a decade, Kalvitis has done just that. He designs his connect-the-dot puzzles in Rochester, New York, where the books are also printed. The paper used in his books is made by businesses in New York and Alabama. The cover stock is made by companies in South Carolina and Georgia. The staples used in production of Kalvitis's puzzle books are made in Connecticut, and the ink is produced in New Jersey.
According to Marcie Gabor, President of Made in USA brand, "Consumers are becoming increasingly interested in buying goods made in America because they associate them with higher quality and reliability than products made in other countries. There has been no consistent way of identifying for consumers which companies manufacture here in the States. Now, the Made in USA Brand Certification Mark provides that consistency and identification." Kalvitis's Monkeying Around publishing company joins hundreds of other American businesses who take pride in identifying themselves as companies whose products are made in the United States.
Unlike most publishers, who fulfill their printing needs overseas, Kalvitis has found benefits to working with local companies. He states, "By keeping local I have much better quality control and less shipping at lower costs, which also helps my company be 'greener'." This environmentally friendly awareness has also earned Kalvitis and his puzzle books The Toy Man® eco-Recognition Seal™. Being "Green" is an additional benefit to keeping his business local, a benefit he is pleased to pass on to his customers by offering some of the most reasonable shipping rates available.
As Kalvitis begins work on a new series of dot-to-dot puzzles, he continues to push the envelope with his designs. His intricate, surprising works of art, compiled of hundreds of dots, have been embraced by puzzlers, educators, and parents around the world. His groundbreaking use of hundreds of plot points, a variety of guides and detailed final pictures quickly set Kalvitis's books apart from the rest, and his home-based business has grown steadily over the last ten years. Yet even as his book sales surpassed the ½ million mark, Kalvitis remained steadfast in his dedication to keep production of every aspect of his project eco-friendly and in the United States. "There is a sense of pride with being solely produced in the USA," Kalvitis stated, "and that is becoming more important to Americans all the time. I am proud to offer my customers such a product."
More information on Monkeying Around and its products can be found at monkeyingaround.com and The Greatest Dot-to-Dot Books Facebook page.
###