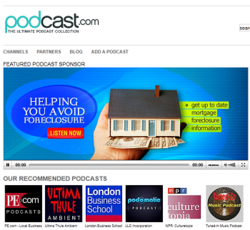 By leveling the playing field, smaller podcasts can pay for premium placement at an affordable price.
Delray Beach, FL (PRWEB) June 07, 2011
Domain Capital, the foremost leader in domain funding, and Domain Holdings Group Inc., a premier provider of custom domain development and marketing solutions, announced the re-launch of the newly branded Podcast.com on Thursday.
"Podcast.com approached us with the challenge of better monetizing their traffic while simultaneously enhancing the user experience," Domain Holdings Group, Inc. CEO Jason Boshoff said. "The paid placement platform we developed offers podcasters of all sizes the opportunity to gain visibility and increase their listener base for targeted traffic."
Podcast hosts wishing to advertise their show will have access to various sponsored sections across Podcast.com. The homepage offers a prominent rotating billboard giving sponsored podcasts static visibility to nearly 250,000 unique monthly visitors. Podcast hosts will also have the ability to purchase sponsored sections on channel pages, offering them more targeted positioning to create brand awareness across new channels. All sponsored podcasts will be featured on the Sponsored podcast page with information about the show, its products and services, as well as links back to its website.
"By leveling the playing field, smaller podcasts can pay for premium placement at an affordable price," Director of Tier 1 Domain Development Sean Sullivan said. "The re-launch is only the start, and we will continue to roll out new products and services to enhance the user experience and our partner relationships."
Domain Holdings rebuilt the site utilizing its in-house custom web development team. The newly launched Podcast.com features over 60,000 updated feeds with access to over one million episodes of video and audio content.
The newly launched site offers:

Prominent display for sponsored podcasts
New user interface to easily sort channels
Nationally syndicated shows from major media outlets and industry names
Subdomain name for podcasts for increased SEO value
An updated blog page with industry insight and updates
Podcasts sortable by Most Popular, Staff Picks and Sponsored Content
Podcast.com re-launched with commitments from: Mortgage.org, AntiVirusSoftware.net, Ironman360.com, LLC.net, Cellware.com, RunningShoes.net and MicroGiving.com.
About Domain Holdings
Domain Holdings is a global leader in the acquisition, development, management and monetization of domain assets. As a full-service domain lifecycle management group, the team is led by group of seasoned Internet professionals whose collective online products and services have grossed over $1 billion since 1994. Domain Power, a comprehensive award-winning monetization and domain development platform, is the core technology behind Domain Holdings that dramatically increases online presence and streamlines the web development and management of domain assets. In addition to its domain management services, Domain Holdings offers a full range of custom services, including web development, marketing and strategic asset management. To learn more about Domain Holdings, visit http://www.domainholdings.com or call 561-634-7349 for a free monetization or site development consultation.
About Domain Capital
Domain Capital is the first and only financial services company to offer financing to businesses based on the inherent and recognized value of premium domain names. Its vision is to create innovative and exciting new financial products and services, enabling entrepreneurs to leverage new business models.
# # #