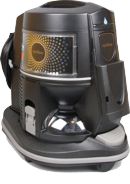 May 2011, Rexair LLC introduces new Rainbow vacuum cleaner model and GoodVac.com has the review.
Troy, MI (PRWEB) June 05, 2011
GoodVac.com is glad to introduce a new Rainbow vacuum cleaner model released by Rexair LLC last month. This is the first major product improvement since 2003. The system is being distributed thru network of authorized dealers selling it to the end user during in-home presentation. GoodVac.com would like to share the information about the new model features and benefits with online community.
Rexair, LLC introduces to its authorized distributors new Rainbow vacuum cleaner model. This is not just a cosmetic face/lift, this is a major change in the design and performance of the system (see pictures and full review here):
Carpet attachment – power nozzle attachment used to vacuum rugs and carpets (a.k.a. Beater Bar) has been totally redesigned. Now it is very airtight to make sure that whatever suction is generated by the main motor is not lost through unnecessary cracks and crevices in the attachment. Nozzle body parts and construction makes it a rigid and durable piece of equipment. Now nozzle is equipped with LED headlight. Newly introduced edge brushes are powered and while in operation broom the rug towards the middle of the main roller making sure that there will be "no dust left behind".
Accessories – Standard set has not changed much. It includes duster brush, floor tool, crevice tool, upholstery tool, inflator/deflator, coil cleaner, cushion bag and attachment holder. There are only two extension pipes / wands but for the new configuration this is all that is needed to use the system – less storage space need. Since the electrified hose now is designed to pick up water (so was the hose sold with silver / blue Rainbow) this is the only hose need to vacuum anything life throws on a floor.
Main motor unit – Essentially the same just now it is black with few grey accents. Equipped with two LED lights on the bottom illuminating the water container while units is in operating mode. Not a feature that will increase the performance of the system but definitely a nice touch. Re-designed dolly for the main unit. The most important components - motor and computer/controller remain the same but it is still one of the most advanced designs available on the market. This is the same brushless motor that Rexair LLC has been using since 2003. Since then they has undergone few minor fixes and proved to be durable and efficient components.
Optional attachments/accessories – While carpet shampooer and RainbowMate (small powered upholstery tool) remain essentially the same, the Rainbow Squeegee – tool for hard surface wet cleaning became "Rainjet". Rainjet is equipped with a solution tank and automatic sprayer and assembled onto a wand that would replace one of the standard wands. New optional accessories have different connectors and are not compatible with older Rainbow sweepers. GoodVac.com, Corp. will attempt to design a solution that would make new accessories compatible with older models. When available it will be posted in technical support section.
Warranty – remains the same – 4 years on whole system and 8 years on motor and computer/controller. To be covered by the manufacturer warranty system must be purchased only during in-home demonstration and only from an authorized Rainbow distributor. Systems bought on internet, through newspaper ads or in a vacuum store are not covered by manufacturer. Some sellers offer guarantees through their own shops but guarantee plans will vary as well as the condition and price of the vacuum.
# # #