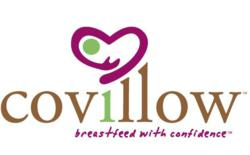 breastfeed anywhere, anytime, in privacy and comfort. Plus, mothers save money by getting two products in one.
Austin, TX (PRWEB) June 21, 2011
Covillow, LLC today announced the launch of their new nursing top aimed at addressing the social, emotional and practical challenges mothers face when breastfeeding in public. The Covillow combines a breastfeeding cover and pillow into one unique accessory that provides privacy like never before. This new nursing top is functional and easily transportable, making breastfeeding in public a truly pleasant experience.
"Covillow's goal is to make it possible for all mothers to breastfeed in public. Based on our market research, existing products did not work to the extent where mothers felt secure in a broad range of public settings. In fact, while using conventional products, many mothers still searched for secluded areas in restaurants, shopping centers, sporting events and parks when it was time to breastfeed," said Candice Boehm, Covillow, LLC Founder and CEO. "When a baby is hungry, they don't want to wait for their mom to find a private place to breastfeed. Using the Covillow, mothers and babies don't have to wait; they have a convenient nursing top which allows them to breastfeed anywhere, anytime, in privacy and comfort. Plus, mothers save money by getting two products in one."
The Covillow, a patented breastfeeding cover and pillow-in-one, was designed to provide a private, comfortable and convenient breastfeeding experience for the mother while placing others around her at ease by knowing everything is concealed. Although long term health benefits of breastfeeding babies are well documented, and the costs for breastfeeding are much lower than purchasing formula, women in the U.S continue to face the stigma associated with breastfeeding in public. According to the National Conference of State Legislatures, only 28 states, the District of Columbia, and the Virgin Islands exempt breastfeeding from public indecency laws.
The Covillow's patented breastfeeding cover design addresses a mother's fear of her breast or skin being exposed while breastfeeding in public. Covillow LLC saw a need in the marketplace for a nursing top which provided complete coverage while making breastfeeding in public easy to perform privately, conveniently, fashionably and comfortably for both mother and baby.
According to Candice Boehm, conventional breastfeeding covers typically protect the front of the mother to try to keep her from being exposed, but do not take into consideration the baby pushing and grabbing the cover, wind if breastfeeding outside, open back chairs in restaurants, or other unexpected occurrences that might expose a mother's breast or bare skin on her sides and back. Many nursing pillows on the market, while great for home use, were not convenient or easily transportable for moms on the go, which posed the challenge of "propping-up" the baby while nursing in public. The Covillow has an extra soft pillow attached, which provides the support needed to make the mom and the baby more comfortable, while convenient enough to roll up and place in a diaper bag.
The Covillow nursing top can be purchased directly from Covillow, LLC at http://www.covillow.com, and was established in 2010 by a stay at home mom and experienced breastfeeding mother of two.
This release is for information purposes only and contains forward-looking statements of the company. A variety of factors could cause the company's actual results and experience to differ materially from the anticipated results or their expectations expressed. Additional information regarding those factors is available upon request.
###