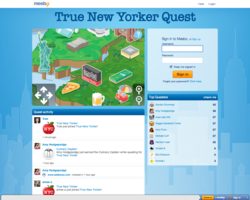 New York, NY (PRWEB) June 06, 2011
Consumer Internet Company Meebo gives people an opportunity to discover New York culture, history and personality through its brand-new "True New Yorker Quest," launching today. The "True New Yorker" Quest features sites representative of New York City and its outer boroughs, including partners Vera Wang, PIX 11, Time Out New York, 24/7 Wall St., eWallstreeter, Micah Jesse, Geekosystem, The Brooklyn Cyclones and many more.
Participants can collect twenty different badges that are emblematic of New York--from New York Foodie to Fashionista--and will be awarded the "True New Yorker" badge upon finishing the Quest. Additionally, Meebo is offering a sweepstakes to complement the "True New Yorker Quest" in which people can enter for a chance to win a weekend trip to visit New York City by visiting meebo.com/sweeps/newyork2011.
The "True New Yorker Quest", which runs through June 30, launches just in time for Internet Week New York--a week-long celebration of New York's thriving technology industry and community--of which Meebo is a premiere sponsor.
During Internet Week, attendees can stop by Meebo's booth at the Metropolitan Pavilion to help design a brand-new Quest in just four days, called the "Created by You" Quest. This Quest, which will launch June 9, will feature sites that participants are most interested in and visit often. A graphic visual artist will record the sites and interests at the booth and Meebo will design badges on-site that will best represent those interests. The entire process will be recorded on video and posted on YouTube.
By visiting Meebo.com/quests, Web users can participate in Quests--the latest addition to Meebo's Web check-in system, which provides a personalized, connected browsing experience on the Web. Currently, users can check in to sites via Meebo's iPhone app and the Meebo MiniBar downloadable extension, available for all major Web browsers.
Meebo now reaches 40 percent of the U.S. Internet audience and nearly 170 million unique users worldwide, according to comScore Media Metrix (March 2011).
Meebo helps you discover and communicate the things you care about the most. It integrates all social networks and communications channels into a single, simple-to-use solution, and enables people to easily share content and communicate in real time with the people who matter to them. Meebo connects people to their friends on the numerous websites that have installed the Meebo Bar, through mobile devices and via Meebo Messenger. It is a privately held company and was founded in 2005. For more information, visit meebo.com.
###