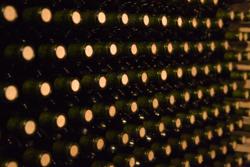 "I think, week after week, as we introduce one bottle at a time, people will be in awe over the unique and distinct selection WineGavel Flash presents to them."
San Francisco, CA (PRWEB) June 07, 2011
WineGavel & Company, one of the fastest growing Fine and Rare Wine Auction & Collectors Services Companies, is proud to announce the launch of the world's first collector's weekly wine flash site deal – WineGavel Flash. WineGavel Flash presents enrolled members one wine each week offered in limited quantities at a great price. The weekly collector's wine opportunity site launched Monday June 6th at midnight will run for 72 hours (11:59pm Wednesday) or until the opportunity is sold out.
Richard Caplan, Director of Marketing for WineGavel & Company states that, "These wines that we'll be offering are better than the usual barrage of wines on other flash deal sites. With those sites, you have to wait days, maybe weeks, for a real wine worth acquiring. With WineGavel Flash, each weekly wine we offer is a true collector's wine. They could be highly rated, produced in limited quantities, but most likely both! That's why we only will offer one wine each week, because that's all you'll need to grow your collection with us. It's opportunity, in a bottle."
The wines that are selected and procured go through a rigorous analysis by the WineGavel Fine & Rare team and their network of vineyards, brokers, and distributors. Each wine offered to their customers is guaranteed to be a must-have for any wine aficionado, and can be enjoyed years after its acquisition, or the day it arrives at their door. The WineGavel experts selecting these wines are the same professionals who handle great wines like Chateau Lafite Rothschild, Romanee Conti, Screaming Eagle, and Harlan on a daily basis, and whose clients are some of the world's largest collectors.
Richard continues, "The biggest challenge we have, with the country having a surplus of great wine, is which vintages are actual opportunities to collector's and avid wine enthusiasts. I think, week after week, as we introduce one bottle at a time, people will be in awe over the selection WineGavel Flash presents to them. We do not want to water-down our offerings, or bombard our customers with dozens of emails a day."
Josh Krummenoehl, CEO of WineGavel & Company, adds, "People already associate our brand with live and online auctions for fine and rare wines, and this new buying option will give our customers another opportunity to experience our wine expertise first hand."
The timing is right, the wines are ready. For the preliminary weekly offers, WineGavel & Company will let anyone who wants 'in' sign-up at winegavelflash.com. As the site grows and our sell-outs become faster, it will shift into a members-only opportunity each week. Come visit the WineGavelFlash.com, and build your cellar collection one week at a time.
About WineGavel & Company
Formed in 2009 as a new entrant into the fine and rare wine auction segment, WineGavel & Company has already successfully launched three of its business units, WineGavel Live auctions, which feature the top luxury rare wine brands from premier and exclusive collections, WineGavel.com online auctions which offer an incredible and accessible lineup of wines during our weekly online internet-only auctions, and WineGavel & Company's collector's services department, which include portfolio management, state-of-the-art storage facilities, and collector's trade services. The anticipated launch of WineGavel & Company's merchant shop, a cutting edge online luxury wine boutique in scheduled to launch later in late June/early July.
###