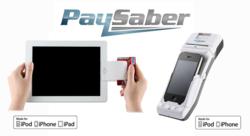 The new look and feel of the site helps us better promote the new line of PaySaber products and we hope will get merchants and resellers excited about all the new product offerings
Los Angeles, CA (PRWEB) June 08, 2011
USAePay has launched a new website for its line of updated PaySaber products today, increasing overall usability for its merchants and resellers. Site visitors will notice a modern feel, expanded content, upgraded product views, and improved organization upon first glance.
"We are excited about the new PaySaber site," said CEO of USAePay Ben Goretsky. "The new look and feel of the site helps us better promote the new line of PaySaber products and we hope will get merchants and resellers excited about all the new product offerings."
In addition to a new layout and increased convenience, the newly redesigned website features a section showcasing the company's newest product, the PaySaber Clip, which is the first device in the PaySaber line to be compatible with the iPad, iPod touch and iPhone. Every product listed, including the new Clip, has a new 360 degree view, technical specifications outlined and complete image library created for it.
USAePay invites everyone to visit http://www.PaySaber.com to experience the new site as well as view the new product line offered.
About USA ePay:
Since 1998, USA ePay, a GorCorp Inc. company, has been helping merchants process their credit card and check transactions with speed and security. Founded by the Goretsky brothers, the company is family-owned and based in Los Angeles, CA. The USA ePay gateway currently supports all of the major platforms (e.g. First Data, TSYS, Global, Chase Paymentech) in the credit card industry and works with some of the leading check platforms. USA ePay is also pleased to work with many of the larger merchant service banks in the US and abroad. For more information, please visit http://www.usaepay.com or call 866.USA.EPAY (872-3729).
###