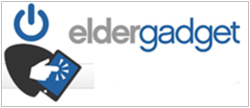 New York, NY (PRWEB) June 08, 2011
ElderGadget, a leading, trusted technology review and news site geared toward the dynamic boomer and senior, has released its Top 10 Father's Day 2011 Gift Ideas for Seniors, featuring its top picks for great gift ideas that will help dad or granddad with everything from grilling to keeping in touch to making his favorite cup of coffee. The Top 10 list serves as a guide for those looking for the latest "must-have" gifts for dads, granddads and the technologically challenged. The list includes popular items such as the iPad 2, Novatel 4510L 4G MiFi and BlackBerry PlayBook.
"At ElderGadget, we know that no two dads or granddads are the same, and have therefore built our Father's Day Top 10 list to showcase gift solutions for a variety of recipients," said Elie Gindi, Founder of ElderGadget.com. "Using our ElderGadget Seal of Approval criteria, we've created a diverse list of gadgets and gift ideas that has something for everyone to enjoy."
The Top 10 Father's Day 2011 Gift Ideas from ElderGadget are comprised of items tested against criteria from the ElderGadget Seal of Approval: namely, is a product easy to see, hear, use and understand. The full list on ElderGadget.com provides a description of each item and includes information on why it is a perfect fit for loved ones this Father's Day.
This year's Top 10 Father's Day 2011 Gift Ideas are:
1. iPad 2
2. The Coffee Bean & Tea Leaf Kaldi
3. BlackBerry PlayBook
4. Motorola Atrix w/ Laptop dock
5. Bloggie 3D
6. Pyle PLCM36 3.5" Slim TFT LCD License Plate Mount Rearview
7. Canon EOS Rebel T3
8. Oregon Scientific Talking Wireless BBQ/Oven Thermometer
9. Garmin nuvi 1490LMT
10. Novatel 4510L 4G MiFi
For more information, please visit http://www.eldergadget.com.
About ElderGadget
ElderGadget is the source for news and reviews about highly rated consumer electronics. By highlighting senior-friendly features, ElderGadget informs and inspires, creating a synergy between the product's technology and user. http://www.eldergadget.com.
Please contact Elizabeth Cahill at 646.430.5648 for any inquiries, images and interview requests.
# # #