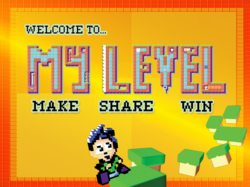 MyLevel aims to be a social game that lets its users share something interesting on Facebook
(PRWEB) June 13, 2011
Jumbuck Entertainment has challenged existing social games to focus less on repetition and more on creativity and competition with MyLevel, its first venture in social gaming. MyLevel is a Facebook game which allows users to create their own retro video game level and share it with their Facebook friends.
MyLevel Game Creator and Developer, Clinton Shepherd said:
"The idea for MyLevel came from me trying to come up with a way to make social gaming less about mindless repetitive tasks and more about actual game-play and creativity."
Players are encouraged to create challenging levels and to earn points which can be used to make even more challenging levels. The game takes a new approach to social gaming, emphasising a players' creativity and competitiveness and letting them share this through Facebook.
"MyLevel aims to be a social game that lets its users share something interesting on Facebook. Your average friend probably doesn't care two hoots if you just built a barn or found a cow. But if you say 'Hey, check out this level I made!' or take some time brag about how you beat your friend's latest level then you're actually communicating something of value and not just giving your friends status updates on your current progress through the game," said Shepherd.
Jumbuck's shift into the lucrative social gaming market arose as a direct result of its Launchpad start-up commercialisation program and is the first project to be developed through the scheme.
"Jumbuck's Launchpad Initiative was what took the idea from some scrawlings in my notebook to reality. It wasn't the sort of project I would try to put together by myself so when I heard about Jumbuck's Launchpad program I figured the idea was a good fit for what they were trying to do," said Shepherd.
The future for MyLevel is bright with plans to take the game mobile and to make it available on iPhone, iPad and Android devices.
To play MyLevel on Facebook go to http://apps.facebook.com/mylevel/
###