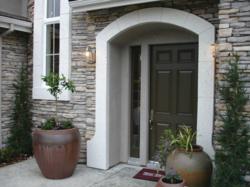 Maumee, OH (PRWEB) June 13, 2011
Fypon, Ltd., the industry leader in synthetic millwork products, has introduced a new "Stone & Timber" collection of decorative products created to accent homes featuring stone, stucco and timber as major design themes. The durable pieces feature either a realistic stone or woodgrain texture on all exposed surfaces.
The Stone & Timber product offering includes window and door trim, decorative millwork, louvers, post wraps, trellis systems, stone surround systems, stone columns and stone balustrade systems. Each durable piece features rich, authentic textures and details to resemble traditional cast concrete or timber accents. Like all Fypon® pieces, the new products resist moisture, insect infestations, warping, cracking and splitting.
More than 270 Stone & Timber pieces are now available nationwide for interiors and exteriors of both residential and commercial projects. All Fypon products are lightweight and easy to install, making them a cost-effective alternative to real wood or cast concrete products.
"These pieces have been created to provide a lightweight, easy-to-work with product that provides the look of real cast concrete and timber without the weight of actual cast concrete or the performance problems inherent with wood," says Derek Fielding, senior product manager for Fypon. "The new textures extend our Fypon product line to assure we have a solution for every project.
"Each item is made of high-performance polyurethane that can weather the elements effortlessly while providing years of long-lasting beauty. Because they install quickly, these products help save both time and money for many projects. And, unlike PVC, these polyurethane products can be painted or stained to match each project's color scheme, including darker colors that suite the architectural style of a project. So, regardless of a project's millwork or trim need, Fypon has the solution with smooth, stone or timber textured products."
Fypon Stone Pieces
The new Stone textured pieces from Fypon offer the look and feel of real cast concrete architectural details, but are lighter in weight and easier to handle and install. Additionally these beautiful, easy-care pieces give each project uniformity and consistency in design.
Fypon Stone Surround System accent pieces include arched blocks, decorative blocks, flat blocks, pot shelves, flat block sill, flat block plinths, keystone decorative blocks and flat blocks. Non-structural stone textured column kits come in both a tapered and non-tapered style. Structural stone balustrade systems include balusters, top and bottom rails, newel posts and post caps.
Each cast concrete piece has an oatmeal primer applied at the factory, so pieces may be stained or painted prior to (or after) installation. Cast concrete accents are ideal for enhancing stone home exteriors. Because the products are replicated from real architectural elements, variations in the pattern and depth of the stone texture are intentional to add to the authentic look of each piece.
Fypon Timber Pieces
The wide variety of woodgrain Timber pieces from Fypon feature the look of real wood without the maintenance hassles. Most pieces have a texture resembling sandblasted cedar but a variety of items also include the bolder look of hand-hewn beams with the Tahoe and Mesa designs. Each lightweight piece comes pre-primed, making it easy to stain, paint and install.
The new Timber Trellis System from Fypon comes in a complete kit including outlookers reinforced with PVC, beams, lattice and hardware. The system can be installed easily to transform a simple single or double garage door into an architectural accent for the home.
Timber shutters in the new collection are available in eight styles, each resisting splitting, rotting and flaking due to exposed to the elements. When stained, the shutters provide the home with the look and feel of real wood shutter accents.
Pot shelves are also available to enhance windows, along with trim pieces and other decorative accents, including knee braces, corbels and rafter tails. For an authentic beam look, beams, Fypon offers Timber beams and beam straps for both the interior and exterior of the home. These pieces replicate the look of real wood beams without the complexity and weight associated with a real wood beam installation.
For many long-lasting trim solutions that save time in the field and enhance the look of homes, visit http://www.fypon.com for a Stone & Timber Catalog or a Fypon full product catalog.
Fypon offers thousands of decorative millwork elements in a variety of architectural styles to enhance the interior and exterior of America's homes. Each piece is crafted from tough, weather-resistant, high-performance materials that are impervious to decay, insect infestation and water damage for long-lasting beauty and low maintenance. Part of consumer products company Fortune Brands, Inc. (NYSE: FO), Fypon is owned by Therma-Tru Corp. For additional information, call 1-800-446-3040 or visit http://www.fypon.com.
Release: http://fypon.mediaroom.com/index.php?s=press_releases&item=109
PHOTOGRAPHY: Download a variety of high-resolution images of Fypon Stone & Timber products from the Fypon Media Room available at http://www.fypon.com.
###