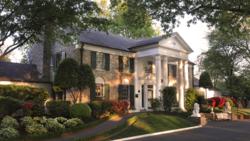 Memphis, TN (PRWEB) June 14, 2011
As part of the celebration of the 55th anniversary of Elvis in 1956, Elvis Presley Enterprises, Inc. (EPE) has announced an exciting lineup of events for Elvis Week 2011 to be held at Graceland in Memphis, TN. Taking place August 10-16, Elvis Week is an annual, multi-day gathering of friends and fans from around the world celebrating Elvis' life and legacy. This year marks the 55th anniversary of many Elvis firsts, including his first RCA single and national hit, "Heartbreak Hotel," his first movie, "Love Me Tender," and his first television appearances.
Elvis Week 2011 will feature several new special events and concerts, including Elvis Presley LIVE - The King in Concert to be held on Saturday, August 13, at 8:00 p.m. at The Orpheum. This exciting, new multi-media music event puts a hot studio-session band and back-up vocalists on stage in Memphis as the King of Rock 'n' Roll is projected, larger than life, on state-of-the-art LED screens. This is a virtual Elvis Presley concert - with Elvis singing lead vocals - presented exactly like one of his classic live performances at the Las Vegas Hilton showroom. The contemporary staging and overall production help create the illusion that Elvis is on stage. Hosted by Elvis' music director, Joe Guercio, the concert will also feature an appearance by his back-up singers and award-winning gospel group Elvis' Imperials.
The highly-popular and entertaining Ultimate Elvis Tribute Artist Contest will be held again this year with competitors from around the world, including the U.S., Canada, Australia and Japan. Elvis tribute artists will compete during the semifinal rounds of the contest on Thursday, August 11, at The Orpheum in Memphis in two separate rounds, one at 3:00 p.m. and one at 7:00 pm. The top ten semifinalists on Thursday will then move on to compete for the top spot of Ultimate Elvis Tribute Artist of 2011 at 7:00 p.m. on Friday, August 12.
On Saturday, August 13, at 10:00 a.m. at Rose Theatre at the University of Memphis, a documentary screening of "Sam Phillips: The Man Who Invented Rock 'n' Roll" will be hosted by Peter Guralnick and Knox Phillips. The film, written and co-produced by Guralnick, tells the story of the founder of Sun Records, who discovered and recorded some of the greatest artists of American music in the 1950s, including Elvis Presley, Jerry Lee Lewis, and Johnny Cash, among others. Following the film, enjoy commentary by Peter Guralnick and Knox Phillips, the son of Sam Phillips and a music icon in his own right, as they talk about Phillips and share memories of this giant in the music industry.
Conversations on Elvis, one of the most popular Elvis Week events, returns this year on Sunday, August 14, at 1:00 p.m. at The Orpheum featuring special guests that knew, worked with and spent time with the king, sharing their favorite memories and stories. The event will be hosted by Tom Brown, Vice President of Original Productions for Turner Classic Movies (TCM). Confirmed special guests are: Al Wertheimer, who took an assignment in the spring of 1956 as a one-day freelance photographer to take publicity photos of a young, up-and-coming singer named Elvis Presley; John Wilkinson, who played rhythm guitar as part of the TCB Band starting in 1969 through 1977; and Joe Guercio, Elvis' musical director and conductor for his performances from 1970 – 1977.
Three outdoor concert events at Graceland are also on the Elvis Week schedule this year. On Sunday, August 14, at 9:00 a.m. there will be an old fashioned Southern Gospel Singin' with Elvis' Imperials. In addition, also performing will be gospel group Soul City from First Assembly of God, Memphis, which was Elvis' home church for many years. Also on Sunday, at 7:00 p.m., will be an outdoor concert at Graceland featuring Elvis fan favorite Terry Mike Jeffrey performing some of his favorite Elvis tunes. Opening the show will be Jamie Aaron Kelley along with Brad Birkedahl performing Elvis' hits in their own unique style.
On Monday, August 15, at 9:00 a.m., an outdoor concert will feature popular musician Andy Childs performing his favorite Elvis songs. Opening for Andy will be country music entertainers and recording artists Lori Anderson and Gavin Kelly performing their favorite Elvis hits followed by Victor Trevino, Jr. who will take the stage to perform some of Elvis' classic '50s songs.
Other events scheduled during the week include an Elvis Insiders Riverboat Party, the Club Elvis dance party, a Graceland Trivia Tour, the Annual Elvis Presley International 5K Run to Benefit United Cerebral Palsy, a Midnight Southern Breakfast, Elvis Bingo, Youth Karaoke, Children's Craft Activities and more.
One of the most memorable events of every Elvis Week is the annual Candlelight Vigil, which will be held on August 15 beginning at 8:30 p.m. CT. Thousands of fans gather at the gates of Graceland in Memphis for their chance to walk up the driveway to Elvis' gravesite in quiet remembrance of the music icon who left his mark on music and pop culture. The gates to Graceland Mansion remain open until all who wish to participate in the procession have done so, which typically takes until the early morning hours of August 16, the anniversary date of Elvis' passing.
Fans unable to join the celebration in Memphis will once again be able to participate online at ElvisWeek.com via LiveCams with Facebook integration, a virtual wall, and photos and videos uploaded throughout the week.
Elvis Week ticket packages as well as tickets for individual events are now available. Visit ElvisWeek.com for detailed ticket and event information.
About Elvis Presley Enterprises
Elvis Presley Enterprises, Inc. is based in Memphis, with additional offices in Los Angeles. In addition to Graceland and its related attractions in Memphis, including the Heartbreak Hotel, EPE is aggressively involved in a worldwide licensing program, merchandising, music publishing, and television, film, video and Internet projects. For more information on EPE and Graceland, visit http://www.elvis.com. EPE is a subsidiary of CKX, Inc. (http://www.ckx.com), a publicly traded company listed on the NASDAQ Global Market® under the ticker symbol CKXE.
# # #