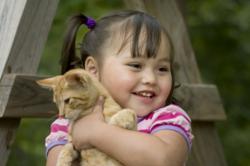 mobiPET
Pet owners helping one another,
point-click-send...
relax
Columbus, OH (PRWEB) June 17, 2011
Mobius is the first mobile marketing solution that works with image recognition specifically designed for pets called mobiPET, a mobile phone-based service that works like an "Amber Alert" to reunite lost pets and owners. mobiPET collar tags will soon be available at popular pet stores, veterinary clinics and animal shelters. The collar tags are FREE, as is the lost pet alert notification service.
More than three in five Americans (62%) have a pet, according to a May 2011 Harris Poll. Source: Harris Poll. mobiPET is simple to activate and use. The pet owner simply takes a picture of the free mobiPET collar tag using any camera-enabled mobile phone and sends it to mobiPET(at)agm(dot)tw. mobiPET returns a message requesting a photo of the pet, then directs the pet owner to a mobile internet page where the pet owner enters their contact info, the pet's name, medications the may be on, and likes or dislikes. The pet's info is then automatically associated with the mobile phone number used to activate the mobiPET tag.
"Unlike RFID or other implant chips, mobiPET is non-invasive and requires no special equipment, such as RFID chip readers or scanners," said Mobius CEO Aram Kovach. Most pet owners already have everything they need to get started with mobiPET. mobiPET, works across all mobile phone service carriers and requires only a mobile phone with a camera, with text messaging capability. mobiPET is specifically designed to be used with mobile phones and can even easily populate the pet owners registration form via a reverse lookup feature that uses the owners' home phone number greatly reducing the number of keystrokes required on the mobile phone.
mobiPET brings the power of mobile social networking to a search for a lost pet. If a pet goes missing, the owner sends the text message "LOST" to mobiPET(at)agm(dot)tw using the same mobile phone number that activated the mobiPET tag. mobiPET immediately sends an alert message and photo of the pet to other mobiPET members within a ten mile radius of the owner's present location, mobilizing a community of mobiPET owner-members who are then on the lookout for the lost pet. mobiPET also notifies local member veterinarians and animal shelters.
Anyone that finds a pet can notify the owner by taking a photo of the tag and sending it to MobiPET(at)agm(dot)tw, as indicated on the tag. The owner receives an immediate notification that someone has found the pet, along with that person's contact info. This process works even if the sender is not a mobiPET member, or has not been notified that the pet is missing.
Visit http://mobiPET.mobiusworld.me for more information.
mobiPET is funded with the support of pet care companies that care about pet welfare. mobiPET does not charge a fee for tags or alert services, but users will pay any charges associated with their mobile phone contract or postage if additional tags are required. Standard carrier messaging and data rates apply.
About Mobius
mobiPET is the first and only mobile marketing solution using image recognition that works across all carriers and all cell phones globally and requires no downloads. Mobius responds in the primary language of the country the message comes from.
Mobius is an image recognition system designed to work with any camera-enabled mobile phone. When a user sends an image to Mobius, it receives, identifies, and replies with a custom message or unique mobile content.
Mobius mobile image recognition technology is also used in the mobiLUX, mobiSHADES and mobiBIZ applications.
Mobius can provide rich media and immersive content for users with an unlimited data plan, however for those without a short video is still provided to enhance the user experience for all. The Mobius service in itself is free, but users will pay any data charges associated with their mobile phone service contract. Standard carrier messaging and data rates apply.
Visit http://www.mobiworld.me for more information.
About CompEx, Inc. CompEx, Inc., the parent company of Mobius, which provides comprehensive integrated web solutions to solve the complex connectivity problems facing today's organizations. Based in Columbus, Ohio, CompEx, Inc. is a privately-funded company formed in 1992 as a technology brand of global invention and vision to develop solutions for new business ventures. CompEx specializes in interactive mobile marketing, web and mobile application development, business intelligence, infrastructure/security, and digital data management. Our innovative thinking, knowledge and systematic work methodology enable us to provide our customers with timely and highly effective innovative solutions.
For more information about CompEx, Inc. and its innovative partners or Mobius, contact our US Headquarters (877) 829-0536 or visit.http://www.compexinc.com.
About the data, Source: The Harris Poll.
###