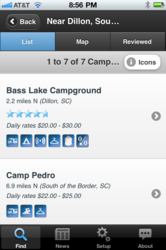 I downloaded Camp Finder for an upcoming trip to Rocky Mountain National Park. Having played around with it a bit, it's simple, easy to use and quick. Has everything you'd expect - concise information about campgrounds, links to Google Maps and location.
New York, NY (PRWEB) June 15, 2011
CampingRoadTrip.com has made planning a camping or RV trip easier with the release of the Camp Finder iPhone app. With the Summer season in full swing, many campers and RVers are excited to get outdoors. Getting the most from precious vacation time means finding hassle free ways to plan a trip, as well as being able to change plans on the move. Camp Finder app gives campers and RVers a simple way to search for campgrounds and RV parks, and discover the perfect place to stay.
"Camp Finder puts 14,000 U.S. campgrounds and RV parks in your pocket," says Julian Fenn founder of CampingRoadTrip.com. "We want to help people have a great time in the outdoors and also save a few trees by getting rid of the big paper based camping directories. Camp Finder app is all about giving campers and RVers the freedom and spontaneity to have a great time on the road."
The reality of being on the road means that plans do change. RVers and campers can now use the Camp Finder iPhone app to access the most up to date information and search for campgrounds and RV parks by name, city and state or current location. With just one touch campers and RVers can check out rates, amenities, camping discounts, contact details and even photos and reviews posted by others. "Camp Finder is even smart enough to give you directions to your destination. The only thing it won't do is drive your RV or car there!"
The Camp Finder app features a simple yet powerful campground search function, the ability to get directions to any campground or RV park, and access to recent RV and camping tips and articles to help outdoor enthusiasts get the most from any camping road trip.
Camp Finder iPhone app can be purchased from the iTunes Apple Store for $1.99.
See more details and a demo of Camp Finder at http://www.campingroadtrip.com/camp-finder-iphone-app.
# # #