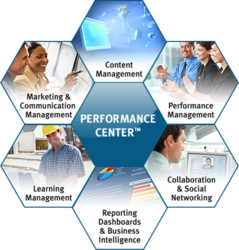 "We are very pleased with Caterpillar's decision to deploy the Performance Center PRM," said Paul Tobin, EVP at LogicBay. "Caterpillar is one of the world's premier brands and we are privileged to provide our solution to their dealers."
Providence, RI (PRWEB) June 17, 2011
The initial deployment includes all dealers, with suppliers and customers coming onboard over the next several months.
LogicBay's Performance Center unifies all facets of distribution channel development into a single, easy- to-use portal. The Performance Center's unified core technologies include Marketing Communications Management, Learning Management, Performance Management, Content Management and Social Management. Additionally, the portal capabilities of the system allow easy, single sign-on to other dealer and customer-facing systems both inside and outside the firewall.
The goal of the system is to offer a powerful, yet easy-to-use focal point for training, development and all forms of performance management. The typical approach of doing this through multiple complex sites is no longer complementary to today's business needs.
The Caterpillar deployment is currently in 9 languages and delivered through 13 centers of excellence (aka portals), including Service, Sales, Product Support, Rental, Power Systems and more. The system includes over four thousand courses and over a million records. The deployment is hosted and supported by LogicBay through their SaaS (Software as a Service) business model.
About LogicBay:
LogicBay is a leading innovator in channel management, training and development. Comprised of channel experts from a variety of well-known companies, the principals at LogicBay focus their solutions on helping customers reach, manage and develop their distribution channels, including dealers, distributors, franchisees, customers and suppliers. Over 50 instances of the Performance Center are now deployed, delivering optimized channel performance for companies such as Daimler, Caterpillar, Verizon, The Gap and many other leading Fortune 100 companies.
LogicBay, the LogicBay logo, Performance Center and the marks related to LogicBay products and services are the registered trademarks of LogicBay Corporation.
###