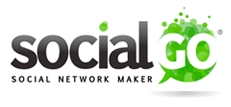 (PRWEB) June 16, 2011
A lot has changed in the last dozen years, or has it? Just about every business, especially consumer facing ones such as retailers and restaurants alike now have to claim their own online presence. To be fair, many of these companies have done so for some time now, maybe a few years ago. Unfortunately the site often hasn't changed since and is probably not connected to any form of a social networking aspect. Luckily, the gap between social networking and building websites is getting smaller thanks to platforms such as SocialGO.
Of course, these small business websites are often done by people who have better things to do with their time than write up content and code up some html, let alone build a CMS (Content Management System, for those keeping score). Some of these businesses may even be quite internet savvy and have started to use the likes of Twitter and Facebook for instance, but can't bridge the gap between connecting with their customers and having their customers find them in the first place.
Sure, a good brand and a good website is a start, but what defines that? Many sites still have the old Flash intro that may look nice the first time, but not even load for some visitors before they leave. Or a selection of widgets that look dated from the second you land on the page. And in either case, a site that's probably hard for anyone to find on Google. Still, instead of rebuilding the site yourself, why not make it something that the consumer, the user themselves, can help you build.
SocialGO allows users to build a website with features such as forums, blogs and image galleries intact and easy to add on. These allow users to sign up for your network, post comments and blogs themselves, therefore increasing the content and relevance of your site – without you lifting a finger. With brand identity also a big factor these days; many sites opt to use their own domain and hosting plan. However, hosting plans cost money too. With SocialGO, your hosting comes included in the package.
Last but not least, to save some time, they offer a services where the concierge team will create a website for you. The concierge plan includes full build and support for your site.
###