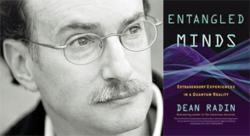 IONS has advanced the science of consciousness for 38 years and found evidence to shed light on many of its mysteries.
Petaluma, CA (PRWEB) June 17, 2011
Is there life after death? Do our thoughts have the power to heal? Can we see the future? An increasing number of people are answering yes to these questions and exploring ways to learn more about the mysteries of consciousness. As one of the few nonprofits openly researching exceptional human capacities, the Institute of Noetic Sciences (IONS) today launched a campaign to increase support for its consciousness research and education programs among believers in the power of the mind to influence the physical world.
According to a 2005 Gallup survey, 55 percent of Americans believe in the healing powers of the mind, and 75 percent believe in at least one paranormal phenomenon, such as extrasensory perception (ESP).
During IONS' Mysteries of Consciousness campaign, supporters will receive a copy of the book Entangled Minds as a thank you gift. Written by IONS' senior scientist Dean Radin, Entangled Minds explains the theory of quantum entanglement that points to minds connected across space and time. Members also will receive a copy of the film, "Down the Rabbit Hole," which features Dr. Radin, as well as a CD recording of an interview with Dr. Radin.
Dean Radin is a world-renowned author and scientist in the field of parapsychology. His laboratory research on exceptional human capacities, principally in psi phenomena, ESP, precognition, and distant healing, has advanced the methods by which psychic abilities can be tested. It established some of the first standards in the field, allowing other scientists to design credible, repeatable experiments. Dr. Radin has held appointments at Princeton University, Edinburgh University, University of Nevada, Las Vegas, SRI International, and The Boundary Institute. He was president of the Parapsychological Association for four terms, and he speaks extensively to scientific and mainstream audiences.
Support from donations and philanthropic gifts fund IONS' laboratory and field research and educational programs that include a unique laboratory setting where IONS has pioneered methods to study and replicate psi experiences; scientific presentations in academic settings and published articles in peer-reviewed journals presenting evidence for "anomalous phenomena; and print and digital media that showcase frontier research and breakthrough insights by other scientists and thought-leaders. It also contributes to IONS' website where people can openly explore and discuss parapsychology, psychic experience, and other so-called taboo topics as well as community groups that welcome the public to gather and share their stories.
IONS has advanced the science of consciousness for 38 years and found evidence to shed light on many of its mysteries, including data suggesting that intention at a distance can affect physiological changes in another person and studies that show people can see into the future. IONS' pioneering research has resulted in methods that allow scientists to replicate laboratory findings for psi abilities, an empirically supported educational program on end-of-life cosmologies, and the world's largest bibliography of resources on spontaneous remission.
# # #