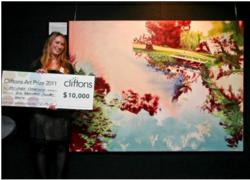 Supporting the arts is another demonstration of our commitment to visual excellence. We are proud to be involved with young and emerging artists across our local communities
(PRWEB) June 18, 2011
Emerging New Zealand artist, Rosanne Croucher, was awarded the Cliftons Art Prize last night, from amongst more than 450 international entries submitted by more than 250 artists located across Australia, New Zealand, Hong Kong and Singapore, for her work entitled 'Inflection'.
Conference centre and event facilities provider Cliftons invited emerging artists from across ten cities to submit original artworks for its fifth Art Prize competition. Winners from each city were awarded AUS $2,000 (NZ $2,500), while the top position was awarded an overall prize of AUS $10,000 (NZ $12,800).
The competition's independent judges included Tim Abdullah, Head of Art at Menzies, Justin Jade Morgan, Director of the New Zealand Academy of Fine Arts and Australian artist and printmaker, David Bromley.
Mrs Croucher, who is currently completing her final year in a Bachelor of Design and Visual Arts at Unitec in Auckland, was overjoyed at the news she had won.
"This is my first major Art Prize accolade, and I'm grateful to Cliftons for the opportunity they've given me. The prize will certainly go a long way towards supporting my artistic endeavours into the future, including travelling overseas which will provide me more perspective," says Mrs Croucher.
Cliftons owner, Andrew Cameron, is passionate about the arts, and sees the ongoing competition as a tangible way of supporting local emerging artists, as well as enriching the visual experience at Cliftons' training venues, which had been transformed into a gallery style setting. The Awards evening also provided an opportunity for Cliftons' corporate clients to meet and support local artists through the purchase of their works of art.
"We are very focussed on providing visually stimulating environments for our training and events facilities," says Cameron. "Supporting the arts is another demonstration of our commitment to visual excellence. We are proud to be involved with young and emerging artists across our local communities."
'Inflection' will form a permanent part of the Cliftons art collection, which includes artworks from previous winners at many of its venues.
This is not the first time Mrs Croucher has exhibited her work. She participated in group exhibitions in Bungalow 6 at Unitec 2010, Mindscapes at Global Café 2010, and Hard to Reach Places at Mairangi Bay Arts Centre 2011.
Explaining her artwork, Ms Croucher said: "My practice is based on several interests and influences. These include the relationship between man and nature, expressing psychological 'inscapes' through landscape imagery, exploring the relationship between realism and abstraction with paint, and investigating an Eastern treatment of space through the removal of a fixed ground.
"'Inflection' represents the shifting and temporary nature of our own memories and dreams, as well as our perceptions of the world we live in. The drifting quality of the work points out the necessity of both flexibility and conviction in the way we approach life- some things need to be held on to, others need to be let go of."
About Cliftons
Cliftons is the leading provider of premium, purpose-built training and event facilities, seamlessly delivering total event solutions and outstanding customer support around the globe.
With an extensive range of training-specific technologies, services and infrastructure, Cliftons has 12 venues in 10 locations across Australia, New Zealand, Hong Kong and Singapore. Its affiliate network provides access to an additional 4,000 venues across 2,200 cities worldwide, including more than 500 venues in all major cities and regional hubs within Australia and New Zealand.
Cliftons venues include natural lighting and customised room layouts capable of accommodating groups up to 240. Additionally, its flexible booking policy requires no deposit, ensuring hassle-free organisation of training and events.
Recognised by the industry for providing the optimal environment to enhance learning, Cliftons won the Platinum Award for Best Venue in Asia Pacific at the 2010 LearnX Awards.
###