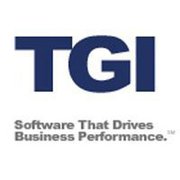 "Our customers truly drive the future of our product development and are critical to the evolution and ongoing success of the Enterprise 21 ERP software system."
Toledo, OH (PRWEB) June 20, 2011
Technology Group International (TGI), an ERP manufacturing and wholesale distribution software solution provider to small and mid-market businesses, announced today record attendance for its annual users conference held last month in San Antonio, Texas.
"We are extremely happy to have hosted more users in 2011 than any other year since the annual users conference began nearly a decade ago," said TGI managing director Alex Smith. "We are thankful to have such an active, supportive, and growing user base that provides us with great feedback. Our customers truly drive the future of our product development and are critical to the evolution and ongoing success of the Enterprise 21 ERP software system."
TGI representatives hosted customers to three days of training workshops and best practice sessions, as well as evening conference networking activities to allow users to interact and learn from one another's experiences with the Enterprise 21 ERP system. In addition, the U.S.-based ERP company provided a preview of hundreds of new features for Enterprise 21 ERP 8.0, scheduled for release in October 2011, that included updates to the ERP application's forecasting and material requirements planning (MRP) modules, an enhanced graphical user interface warehouse management system, and new web-based phone and tablet business intelligence applications.
TGI Chief Technology Officer Bob Goldstine stated, "We had a lot to show our customers this year – Enterprise 21 ERP 8.0 represents a significant leap forward from a technology standpoint, particularly in the realm of mobile and tablet applications, and I think our users are very excited about what's coming next in Enterprise 21."
About Enterprise 21 ERP
TGI's Enterprise 21 ERP software is a fully-integrated distribution and manufacturing software system that delivers complete order management, inventory and warehouse management, manufacturing, procurement, customer relationship management (CRM), material requirements planning (MRP), financial management and accounting, business intelligence, and e-Commerce functionality in a single ERP system.
About Technology Group International, Ltd.
Founded in Toledo, Ohio in 1990, TGI is an industry-leading enterprise software solution provider to small and mid-market manufacturers and distributors. TGI's exclusive focus is on the development, implementation, and support of Enterprise 21, the company's fully-integrated business management software solution. TGI is a privately-held organization with one of the highest revenue per employee ratios in the ERP software industry. For additional information, please visit http://www.tgiltd.com.
###