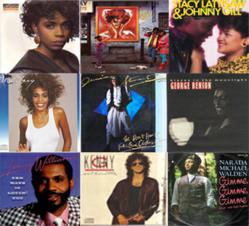 Preston Glass is back for his second auction with SongVest to share this unique memorabilia with fans
Raleigh, NC (PRWEB) June 21, 2011
SongVest, the company that reinvented the music business by offering the ultimate fan collectable -- ownership in the royalty income of the songs themselves -- has announced their next auction will feature classic songs from the 1980's.
Fans will be able to bid on a percentage of the royalty income for each song at auction. Each item is a "No Reserve" auction so that means these items will sell if there is a bid. Buyers will collect their royalties quarterly from SongVest and can track all of their purchases and royalty income via our "Music Mogul Dashboard".
Preston Glass, a legendary songwriter and producer, is back at SongVest to share more of his classic hits with the fans. "My last experience with SongVest allowed me to connect with fans in a way not possible before. I am glad I can share this unique memorabilia with them."
Highlights include "Who's Zoomin Who" by Aretha Franklin that reached #2 on the charts off her first ever million-selling Platinum record and "Don't Make Me Wait for Love" by Kenny G which also reached #2 on the Contemporary Chart with the album Duotones going 5x Platinum.
Additional songs up for auction are "We Don't Have to Take Our Clothes Off" by Jermaine Stewart,, "Kisses in the Moonlight" and "Shiver" by George Benson, "Love is a Contact Sport" by Whitney Houston, "Against Doctor's Orders" by Kenny G, "Gimme Gimme Gimme" by Narada Michael Walden, "Touch Me" by Alisha Warren, "Sweetness" by Michelle Gayle, "Perfect Combination" by Stacy Lattisaw/Johnny Gill and "Ten Ways of Lovin You" by Lenny Williams.
Preston Glass has been a part of 30+ Top 10 R&B Hits, five Top 10 Pop Hits and five BMI award-winning songs. He is the one of, or the only, songwriter in all the songs at this 80's auction.
The auction will begin on July 9 at 12:00 a.m., and end July 17 at 9:00 p.m. EST. Fans can register now at SongVest.com.
Since 2007, SongVest has offered music fans, collectors and investors the unique opportunity to share the royalties with the writers of their favorite music. Past auctions have included the rights of songs recorded by Aerosmith, Bon Jovi, Carrie Underwood, Ringo Starr, Ozzy Osbourne and The Monkees.
###