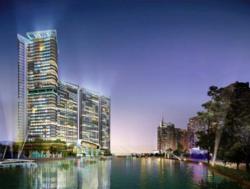 London (PRWEB) June 23, 2011
The demand for property in Manila, Philippines has continued to rise due to its ever-growing population and the strength of its business district, making it the ideal location for luxury residential developments. Apartments in Manila are the most desirable type of homes.
A recent report from The IMF (The International Monetary Fund) showed a 7.3% growth in the Philippine economy - the highest in 34 years - in 2010, emphasising the country's strength within the global market.
"The Philippine banking sector is reasonably isolated from what's been going on internationally, that includes both exposure to sub-prime and other assets with questionable values," James McCormack, Fitch Ratings, recently reported in relation to keeping its stable outlook for the Philippines because of the country's monetary and financial stability.
The high demand for apartments in Manila continues to rise and now the opportunity is being offered to international investors in the UK and Europe to be a part of Manila's first iconic waterfront development, the Acqua Private Residence.
Located at the meeting point of two cities, Mandaluyong and Makati, Acqua is easily accessible via the newly-constructed Estrella-Pantaleon Bridge and is the first development to take shape on the historic Pasig River.
Steven Worboys, MD of Experience International who are marketing in conjunction with Century, comments,
"The Philippines has been one of our strong market performers for a number of years now and we anticipate increased interest and growth following the UK release of Acqua Private Residence. Acqua is Century's new flagship project where we can offer our clients' strong rental yields and capital growth."
The 2009 CBRE Asian Market report showed that luxury residential rental yields in Manila were 7% - 10% and one of the highest in Asia.
It is anticipated that rental yields for luxury residential apartments in Manila, especially Makati condos, will rise to 10% -13% plus in 2011, based on previous Century Property developments.
Acqua is paradise in the middle of the urban jungle and its 2.4-hectare vertical village consists of six luxury towers. Century Properties' latest masterpiece dedicates an equivalent of two times its total land area to lush greenery, enchanting water features and an abundance of open space. Amenities including a modern-day Country Club, The Pebble and shopping and dining haven, The Riverwalk Promenade are also located on Acqua's extraordinary grounds.
You can purchase a one bedroom apartment for £37,772.55 and Luxury 2 bedroom apartments start from £80,508.44. Based on the developers previously completed projects the Investors will stand to benefit from an anticipated uplift of close to 100% in prices over the construction phase, a figure expected to be exceed as it is a Riverfront Development. Along with high expected Capital Appreciation an attractive rental yields of 14% NET is projected, where the developments un-paralleled amenities accessible free of charge to the residents is set to make it one of the most desirable addresses in Manila. Also as demand for residential condominiums and apartments in Manila is very high the resale options to the domestic market or other investors are very strong.
Early investors can also benefit from Experience International's exclusive 15% UK pre-launch discount.
For more information on investing in ACQUA Private Residence, Philippines please contact the experts at Experience International on +44 (0) 207 321 5858 or visit Experience-international.com.
###