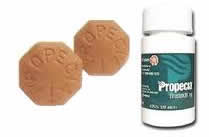 (PRWEB) June 22, 2011
The Oklahoma law firm of Atkins & Markoff and its firm members who serve clients as defective drugs attorneys have made the decision to offer people who have used the medication known as Propecia an opportunity to obtain a free and confidential legal consultation regarding their potential legal rights and options regarding possible side effects of permanent sexual dysfunction and impotence.
These free initial legal consultations are meant to provide information and guidance to those who have used Propecia and who feel that they have suffered from alleged Propecia side effects. Consumers who believe they may have been harmed in this manner are encouraged to contact the firm immediately to schedule this free initial consultation.
Propecia is a medication that's manufactured by Merck & Co. that is intended to be used to treat and to potentially reverse the progression of male pattern baldness, otherwise known as MPB. Propecia is available via prescription and is to be used only by men who are experiencing male pattern hair loss that is mild to moderate in nature. In addition, Propecia is supposed to be prescribed for men whose hair loss is occurring either on the vertex, which is the top of the head and/or on the anterior mid-scalp area, which is the middle-front of the head.
The official Propecia Web site warns against the potential for Propecia side effects to develop, specifically stating that a "small number of men had sexual side effects, with each occurring in less than 2% of men. These include less desire for sex, difficulty in achieving an erection, and a decrease in the amount of semen. These side effects went away in men who stopped taking Propecia because of them. In addition, these side effects decreased to 0.3% of men or less by the fifth year of treatment." (propecia.com)
However, a study published by The Journal of Sexual Medicine that reviewed information from 71 men who had used Finasteride, which is the active ingredient in Propecia, and who were between the ages of 21 and 46. The subjects reported an onset of Propecia sexual side effects where the symptoms persisted for at least three months despite the fact that they had stopped using the medication.
The study (onlinelibrary.wiley.com) concluded that "94% developed low libido, 92% developed erectile dysfunction, 92% developed decreased arousal, and 69% developed problems with orgasm." The mean duration of these sexual side effects was 40 months from the cessation of the use of this medication.
A mass tort Propecia lawsuit (Case 3:11-cv-00641-GEB -TJB) has recently been filed against Merck in Federal District Court in New Jersey, claiming that Propecia and Proscar use has ruined the sex lives of several men (names have been kept confidential) and Merck failed to properly warn doctors across the US of these possible side effects. The plaintiffs also allege that the hair loss medications caused severe erectile dysfunction and testicular pain, leading to a decreased sex drive, depression and anxiety.
About Atkins & Markoff
Atkins & Markoff is an Oklahoma law firm with a team of attorneys who serve consumers in several types of legal matters, including personal injury, auto accidents, medical malpractice, defective products and defective medications. The firm has been handling these cases on behalf of consumers for 15 years.
###