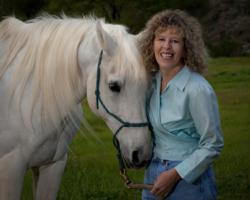 Somatics is the integration of sensory awareness and physical movement with the intellectual, emotional, and intuitive expressions of consciousness.
Petaluma, Calif (PRWEB) June 23, 2011
Am I living a life that honors my higher purpose? Is my daily life aligned with my ethical and spiritual values? How do I contribute to the whole to which I am fundamentally connected? These and other topics will be explored through hands-on interaction with horses during Horses, Somatics, and Spirit: An Equine-Guided Program in Conscious Living, a three day weekend retreat highlighting advanced research on horse-human physiology, psychology, and parapsychology beginning Aug 19 through Aug 21, 2011.
Distinguished author and presenter, Beverley Kane, MD is program director for Medicine and Horsemanship, a course teaching interpersonal skills to healthcare professionals at Stanford School of Medicine, and founder of Horsensei Equine-Assisted Learning & Therapy (HEALTH). Kane is joined by fellow author and zoologist, Ariana Strozzi, MSC, founding principal of SkyHorse and the Equine Guided Education Association, and an internationally recognized pioneer in Equine Guided Education.
"Horses are ideally suited to the work of human development," states Kane. "They see through the slightest incongruities of emotion and intention, yet are exceedingly patient and forgiving. Through interacting with horses, we deepen awareness of personal issues, core feelings and our ability to reach our true potential."
Equine-guided experiences draw upon the physical and metaphysical nature of the horse to help us practice mindfulness, clear communication, intuitive listening and playfulness. The program incorporates breathing and movement techniques used in Tai Chi, Vipassana meditation, and Jacobsen progressive relaxation to evoke feelings of peace and well-being. "The horses react to our body language along with our energy and through this practice, we learn to trust the somato-spiritual signs to create inner peace and well-being," explains Kane. "You really don't need any previous horse experience as the exercises are non-riding and accomplished on the ground."
13.5 Continuing Education Credits (CECs) are available including credit for professionals in health care, counseling, social work and psychology. For more information visit EarthRiseIONS.org or email Jan Fischer at Jfischer(at)noetic(dot)org for additional details.
About IONS
The Institute of Noetic Sciences is a non-profit educational organization researching the relationship between consciousness and the physical world in three program areas that offer potential for positive change in the world: consciousness and healing, worldview transformation, and extended human capacities. IONS hosts a global community where people connect, learn, and transform through live and online educational programs, on-line media, noetic science resources, and a biennial conference. IONS introductory membership is now free at the new Noetic.Org. Funded by members, donors, and grants, IONS also operates a 120-bed retreat center, EarthRise at IONS on a 194-acre campus in the hills of Petaluma, CA.
###