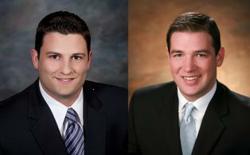 Stephen Burg and Reeves Whalen represent a new generation of talented trial attorneys making a name for themselves at Burg Simpson and nationally.
Denver, CO (PRWEB) June 24, 2011
Burg Simpson Eldredge Hersh & Jardine, P.C., is delighted to announce that attorneys, Stephen J. Burg and Reeves D. Whalen have been appointed to serve on Denver Mayor-Elect Michael Hancock's transition team. Stephen J. Burg has been assigned to the General Services Committee and Reeves D. Whalen has been assigned a Co-Chair to the Excise & Licensing Committee. Both Burg Simpson attorneys will play an integral part in helping to form the new administration, direct policy, and review applicants for city positions. Stephen and Reeves represent a new generation of talented trial attorneys making a name for themselves at Burg Simpson.
Stephen J. Burg is a Colorado award-winning attorney. In 2010, Stephen was selected as a Law Week Colorado "Compleat Lawyer." This award is given to lawyers with 10 or fewer years of experience who excel legally. Additionally, Stephen co-founded the Colorado Judicial Institute Young Professionals, a group comprised of Denver's top young business and law professionals. Stephen is also involved in several other non-profit organizations including the Anti-Defamation League, AIPAC, and The Southern Poverty Law Center. Stephen is also active in local and national politics, including Mark Udall for U.S. Senate, Michael Bennet for U.S. Senate, John Hickenlooper for Governor and Chris Romer's Finance Committee for Mayor. In addition, Stephen is an associate attorney for the ZRBG Pension Project, designed to ascertain pension benefits for Holocaust survivors.
Reeves D. Whalen is an accomplished Colorado injury attorney. In 2011, Reeves Whalen was selected by the Denver Business Journal as a "Forty Under 40" Rising Star. In 2010, the Colorado Bar Association chose Mr. Whalen as a Finalist for the "Young Outstanding Lawyer of the Year" Award. Reeves serves on the Board of Directors for Save Our Youth, The American Constitution Society, and The Golden Triangle Association. Mr. Whalen also sits on the Executive Committee for the Democratic Party of Denver and has served on Campaign Finance Committees for John Hickenlooper's Gubernatorial Campaign and Former Speaker of the House Andrew Romanoff's U.S. Senate Campaign. In 2009, Mr. Whalen traveled to Haiti, with Center of Hope, on a philanthropic mission to build an orphanage outside of Port Au Prince. Reeves dedicates a great deal of his personal time serving as a youth mentor and guest teacher in the Denver Public Schools and recently taught on the Pine Ridge Indian Reservation in South Dakota.
With offices in Denver, Cincinnati, Cody, and Phoenix, Burg Simpson is a firm of award-winning lawyers, practicing in the areas of personal injury lawsuits, class action, medical malpractice lawsuits, dangerous drug litigation, unsafe products, insurance bad faith, employment law, commercial and securities litigation.
###