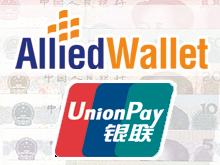 Los Angeles, CA (PRWEB) June 24, 2011
Allied Wallet has announced its ability to settle purchases in the Chinese Yuan currency. Beginning June 23rd, 2011 Allied Wallet will to offer its merchants the ability to accept transactions from customers using the Yuan. Allied Wallet recently added the Renminbi (RMB) to its list of available currencies, the addition of the Chinese Yuan further compliments Allied Wallet's emergence in the Chinese marketplace.
Allied Wallet becomes one of the first US and European based merchant services providers to allow both settlement in the Renminbi and the Chinese Yuan. Allied Wallet will enable any of its thousands of merchants to efficiently sell goods and services to the People's Republic of China as well as enable its citizens to purchase outside of the country.
This move signals Allied Wallet's view on the importance of the Chinese marketplace in the future of ecommerce. "Implementing the ability to accept the Yuan and the Renminbi is the first step for us to begin to bridge the economic gap between China and the rest world." Says Andy Khawaja, owner and CEO of Allied Wallet. "Allied Wallet is an amazing solution for businesses looking to compete on an international scale, the addition of Chinese currencies enables billions of new customers to purchase from all of our clients."
Allied Wallet is a merchant services provider which allows websites to accept credit cards online. Allied Wallet also offers a state of the art ewallet solution and cutting edge ACH processing services.
###