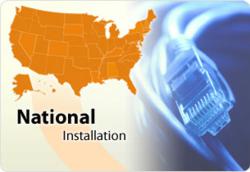 TelcoDepot.com is very pleased to be offering National Installation service. This means we are able to provide assistance with installation of phone systems for our clients in a number of ways, regardless of where they may be in the country
Bay Shore, NY (PRWEB) June 24, 2011
Leading business phone system supplier, TelcoDepot.com, has launched its National Installation Service to cater for nationwide phone system installations for its business clients. The TelcoDepot.com National Installation Service covers VoIP phone systems, VoIP gateways, Response Point phones, conference phone systems, as well as video surveillance systems and other telephone system equipment purchased from TelcoDepot.com, and can be accessed from anywhere in the USA.
The service will be integrated into the online ordering system available at TelcoDepot.com, and will allow customers to select preferred installation options, which will in turn determine the billing for installation services. Available online, the service is highly affordable and effective, and will provide customers with more flexibility and significant cost savings. It is particularly beneficial to businesses that have acquired high-end and high-performance business phone systems, VoIP phones & equipment and other telephony solutions that do not support self-installation or are sufficiently specialized or technically advanced to require expert assistance in programming, configuration and installation.
Installation service, when carried out on a large scale, poses a number of significant challenges for phone system suppliers. These challenges are largely logistical in nature and depend on the availability of qualified and capable installation/service support staff, as well as factors like transportation and funding. It takes a provider with the technical capabilities including qualified manpower and a great retail/partner network to effectively dispense installation services wherever they are required within the country. TelcoDepot.com is one such provider that is uniquely positioned to deliver qualified and professional installation and support services, and the company has gone the extra mile to ensure that their National Installation Service is top-notch, reliable and best of all, affordable.
TelcoDepot.com now provides phone system installations for businesses all over the country. The TelcoDepot.com National Installation Team provides turnkey cabling, phone system configuration & programming and other phone system installation services for its clients. All related cabling work is also carried out by the TelcoDepot.com National Installation Team, which visits business sites to determine the best conditions and approaches for cabling and phone system installations. It has been practically determined that phone system installations can be extremely complex, and that is why Telco Depot has worked very hard to simplify the process, allowing customers to quote their installation plan through the TelcoDepot.com website. Additionally, TelcoDepot.com has determined a number of practical parameters on which the pricing for installations is based, in order to provide a structured and feasible system that saves costs and provides flexibility for businesses.
The National Installation Service provided by TelcoDepot.com is designed to save costs and improve access to qualified installation assistance from certified phone system experts. In a revolutionary move, TelcoDepot.com has integrated the process for quoting installation plans with the overall system for ordering quality phone systems online at the company's website. Clients of the company can now order their chosen installation plans while making a phone system purchase, and can completely weigh in on the process of determining the final installation bill, as this entirely depends on the installation components and options selected during purchase. This is a significant and highly beneficial departure from what is more or less the norm, where suppliers independently and subjectively decide installation prices without necessarily adhering to any established procedures, and without the input of the end consumer.
TelcoDepot.com has established a reputation as a business phone systems provider with a strong leaning towards support services. The company adopts a hands-on, no-customer-left-behind approach in the provision of support to its thousands of satisfied clients who use its services every day. With highly knowledgeable, qualified and experienced support staff, and a management that knows everything there is to know about the Telecoms industry, Telco Depot is poised to revolutionize the way support is delivered in the phone system supplies industry. There are a number of unique programs that Telco Depot incorporates into its agenda as a phone system supplier that contribute to its increasing popularity as a phone system, VoIP Equipment, VoIP services and Telephony support provider of choice in the US.
Quoting TelcoDepot.com about the service;
"TelcoDepot.com is very pleased to be offering National Installation service. This means we are able to provide assistance with installation of phone systems for our clients in a number of ways, regardless of where they may be in the country. Our national installation service is professional, and is available for any phone system bought from us. TelcoDepot.com provides fixed low pricing for installations based on a standard set of criteria, and we cater to all needs - TelcoDepot.com will provide installation service for a single server unit, as well as for complete turnkey installations with new cabling - whatever our clients need, we can help. We have also made it very easy for our clients to get help as they can now quote their installation while making a purchase from our secure website, giving them flexibility and cost savings. TelcoDepot.com Technical Support and Installation Teams are always standing by to assist our clients wherever they may be."
The National Installation Service offered by TelcoDepot.com is truly a welcome development, as the company, which provides phone systems for small businesses with a strong focus on support, is now able to extend that support to cover phone system installations for clients at locations all over the USA. This is also a major breakthrough for the simple reason that not many phone system suppliers are able to provide comprehensive support options for their clients, and even when they can, are often unable to project this support over a large region, let alone the entire country. It is therefore highly remarkable that TelcoDepot.com is able not only to provide extensive hands-on support for the phone systems it provides for small businesses but also is able to provide an intuitive, practical and affordable nationwide installation service that handles key phone system installations for its clients anywhere they may be in the USA.
For more information on Telco Depot's new National Installation Service please contact Telco Depot at 1 800 390 1200 or visit Telcodepot.com.
About Telco Depot
Telco Depot is a leading supplier of quality business telephone systems, hosted PBX services business VoIP service, VoIP phone systems, phone headsets, voice & data cabling solutions, conference phone solutions and Microsoft Response Point Systems. The company's top priority is to help its clients make informed decisions based on their specific small business phone system needs by providing experience and expertise and guiding them in selecting the best phone systems for their businesses. Telco Depot ensures that their phone systems are fully scalable, affordable priced, and provide the highest value for their clients.
###