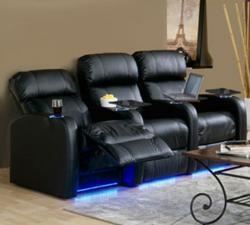 We encourage our customers to keep sending in their requests. We are listening, and those requests can end up as features of our next line of exclusive home theater seats
Golden, CO (PRWEB) June 27, 2011
TheaterSeatStore, the premier online retailer for home theater furniture, and Palliser Furniture®, one of the leading manufacturers of high-end home theater seating have teamed up to create two exciting new home theater furniture products. These new home theater seats are named the Atomic and the Bullet, and both products incorporate popular customer requests. The Atomic and the Bullet both represent Palliser's commitment to high quality craftsmanship and design, and each of these home theater seats are only available through Theater Seat Store.
"Both the Palliser Atomic and the Bullet carry a contemporary yet casual design that invites you to sit down, lie back and enjoy a long movie or sports marathon", said Bill Lorden, director of Sales for TheaterSeatStore. Lorden went on to say, "We encourage our customers to keep sending in their requests. We are listening, and those requests can end up as features of our next line of exclusive home theater seats".
The Palliser Bullet features thinner arms that allow for a space saving design. This makes it easier to add more seats to a smaller space. Even though the arms are thin, they still hold full size cupholders that light up at the press of a button. Each seat also includes ambient LED lighting along the bottom to help patrons find their way in a darkened theater. The Bullet also includes an articulated headrest to help you find the most comfortable viewing angle. The Palliser Atomic is designed from the ground up with comfort and support in mind. Gently curved armrests and tufted seat backs provide superior lumbar support which is enhanced by the chaise style footrest. Each seat comes with stainless steel or brushed bronze cupholders, depending on the upholstery.
Both the Atomic and Bullet share features that were specifically requested by customers. These include deep padded cushions and chaise style footrests for complete head-to-toe support. Tall seat backs are included to accommodate patrons of all sizes and body types. Both seats also have Palliser's own Wall Hugger design that lets them recline even when placed inches from the wall, and each seat has optional Power recline to help you find the perfect comfort angle with the press of a button. The Atomic and the Bullet theater seats also come with removable swivel trays that are perfect for drinks, snacks or a laptop. Both seats are available for Quick Ship in your choice of black or brown leather match upholstery.
About TheaterSeatStore – TheaterSeatStore.com is the market leading retailer of home theater furniture products, motion furniture; massage chairs, and sofa and sectional sets. The company offers a wide range of products and services designed to enhance and decorate a living room space or dedicated home theater environment. TheaterSeatStore is a member of the National Home Furnishing Association and Western Home Furnishings Association, and is an A-rated member of the Better Business Bureau.
###