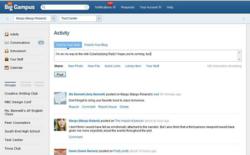 My Big Campus will no doubt help our district reach students and teachers, helping them to become digital citizens while participating in the new features of My Big Campus 2.0.
Bakersfield, CA (PRWEB) June 27, 2011
Released this week at ISTE 2011, the new My Big Campus 2.0 collaborative learning platform from Lightspeed Systems has more features and a new design—plus a new free standalone version, available to all educators.
Previously available only as an integrated feature of the company's award-winning Web Filter, My Big Campus now gives all educators a safe, easy-to-use place for class collaboration and professional learning networks, regardless of their district's web filtering solution.
"My Big Campus is about collaboration, and that gets better as more people get involved," explains Lightspeed Systems CEO, Joel Heinrichs. "We're excited to grow our My Big Campus community, in size and in value, with this new standalone version."
Users of the standalone solution will be able to create groups for classes, clubs, projects, or learning networks; and all members will be able to chat, collaborate, blog, share resources, manage events, store files and assignments, and more. All activity on My Big Campus is monitored; all uploaded files are scanned for viruses and skin-tone analysis; and everything is reported upon—making the platform a safe and CIPA-compliant solution for online learning in schools.
In addition to the new standalone offering, the 2.0 release of My Big Campus brings a host of new features, including Group Chat, Video Chat, Photo Albums, and Collaborative Docs—all within a redesigned, easy-to-navigate interface.
Lightspeed Systems has relied heavily on input from My Big Campus users and educators across the country to shape the development objectives for the release. One of those users is Nathan Davidson, Technology Integration Specialist for the Metropolitan School District of Wayne Township (IN), who shares his thoughts on the new release: "My teachers always talked about how easy it was to navigate My Big Campus. In the new release, it's even more simplified! For teachers and students, it's easy to collaborate through Groups, Wall Posts and Blogging as well as new features like Video Chat and Collaborative Documents. Having these features in a safe, monitored environment allows 21st century skills and responsible use of technology resources to be embedded in the learning process."
Sweetwater School District #1 (WY) is another early adopter of My Big Campus, and Dr. Cristy McBee, Instructional Facilitator for the district, has added her expertise to guide My Big Campus development. "My Big Campus is a great way for teachers, students, and administrators to collaborate and conduct professional development in a safe and educational learning environment. My Big Campus will no doubt help our district reach students and teachers, helping them to become digital citizens while participating in the new features of My Big Campus 2.0."
In addition to the new standalone version, My Big Campus is available as an integrated solution. When integrated with the Lightspeed Systems Web Filter or Mobile Filter, My Big Campus provides additional management and reporting features; offers unlimited accounts and storage; and ends common complaints about overblocking by ensuring that videos, wikis, web sites and other items available in the Educational Resource Library are accessible to users.
Learn more at http://www.mybigcampus.com.
About Lightspeed Systems
To us, education isn't an industry; it's a passion. Our solutions make it safe, secure, and easy for IT staff to give users access to resources that make learning engaging, collaborative—and real.
Since 1999, Lightspeed Systems has been partnering with, listening to, and supporting IT staff in schools—making their day-to-day tasks manageable and their educational goals reachable. Today our solutions are used in more than 2,000 school districts for more than 7 million students. Our products have won numerous awards and our company has been recognized on the Inc. 5,000 list as one of the fastest-growing private companies for the last four years. But more than what we've done, we're interested in what we can do, together: transform education. For more information, call 661-716-7600, or visit http://www.lightspeedsystems.com.
# # #