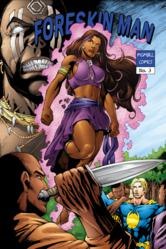 I think everyone has met at least one person who believes that circumcising girls should be a crime, but circumcising boys is okay.
San Diego, CA (PRWEB) June 29, 2011
Just in time for summer, the third issue of MGMbill.org's hotly debated Foreskin Man comic book series was released to fans today. The latest installment takes readers on an overseas adventure to East Africa and marks the introduction of Vulva Girl, Foreskin Man's female counterpart.
When a worried mother fears that her son has been kidnapped to be circumcised, Miles Hastwick departs on an expedition to a remote Kenyan village to search for the boy. Miles soon learns that Africa is a far different place than America, and even his alter ego Foreskin Man will need help if he is going to survive his most dangerous and complex mission yet.
Foreskin Man #3 is written by Matthew Hess and combines the talents of two commissioned artists for the illustrations. Hess is president of MGMbill.org, an intactivist group pushing for federal, state, and local laws that would protect boys from medically unnecessary circumcision the same way that girls are protected.
"I think everyone has met at least one person who believes that circumcising girls should be a crime, but circumcising boys is okay," said Hess. "They'll agree wholeheartedly that female circumcision is 'mutilation', but will insist that male circumcision is only a 'modification'. The idea behind Foreskin Man #3 is to expose that double standard and help persuade readers that male and female circumcision are really two sides of the same coin."
Unlike earlier issues in the series, Foreskin Man #3 also delves into female genital mutilation.
"Despite significant progress being made to eradicate it, genital cutting of girls is still far too common," said Hess. "I wanted to create a superhero who would fight against female circumcision, too, and so I dreamed up Vulva Girl. With the Siri Amulet as her energy source, Vulva Girl uses the power of flight and psychokinesis to help her confront Africa's most notorious female circumcisers."
Back in the USA, Foreskin Man is unleashing an angry tidal wave of legal action. Earlier this month Rep. Brad Sherman told the Jewish Journal that the Foreskin Man comic books pushed him to introduce a bill in Congress to prevent U.S. cities from banning forced circumcision of boys. The next day California State Assemblyman Mike Gatto promised to introduce a similar state measure, saying he had to "rub his eyes" after reading the Foreskin Man comics.
The Anti-Defamation League added more fuel to the fire when they filed a joint lawsuit in the San Francisco County Superior Court of California to pull Hess's San Francisco MGM Bill from the November 2011 ballot. Foreskin Man #2 and Foreskin Man trading cards 1 – 18 are marked as "Exhibit A" in a supportive declaration for case #CPF-11-511370 filed by Morrison & Foerster LLP, the plaintiffs' attorneys.
Foreskin Man #3 is available to read and download for free at http://www.foreskinman.com. Printed copies may also be purchased online, or by ordering through a local comic book shop.
###