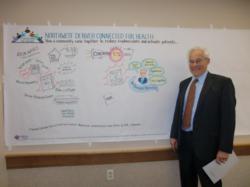 Dr. Donald Berwick celebrated the success of northwest Denver saying, "Optimism comes from you, it comes from the people who get together to show what's possible. You're helping not just your area but leading the country by your example."
Denver, CO (PRWEB) June 29, 2011
Dr. Donald M. Berwick, Administrator for the Centers for Medicare & Medicaid Services (CMS) joined more than 140 health care providers, community advocates and business leaders for a community meeting held at the Wheat Ridge Recreation Center to celebrate the success of the northwest Denver care transitions project in reducing hospital readmissions.
For nearly three years, a group of hospitals, skilled nursing facilities, home health care agencies, nursing homes, physician offices and other health care providers in northwest Denver has participated in a project – led by the Colorado Foundation for Medical Care (CFMC) – to improve the quality of care transitions between care settings and reduce expensive, preventable hospital readmissions for Medicare beneficiaries through patient engagement and activation.
When acknowledging the accomplishments of the community, Berwick said, "Optimism comes from you, it comes from the people who get together to show what's possible and you have done that magnificently here." He went on to say, "Please don't stop…I'll do everything I can to make that possible for you and I just urge you to keep raising the bar. You're helping not just your area but leading the whole country by your example."
Also joining in support was Jeff Hinson, CMS regional administrator, Region VIII (Denver) and Dr. Mark Levine, chief medical officer for CMS, Region VIII.
Northwest Denver is one of 14 U.S. communities chosen for the CMS-funded Care Transitions project. The project places northwest Denver on the forefront of a national effort to improve patient safety and reduce preventable hospital readmissions. A fundamental aspect of the project is encouraging providers and patients to work together as health care partners.
Program results show that the northwest Denver community achieved a 9.3 percent reduction in readmissions among 80,000 Medicare beneficiaries in the study group, which includes 44 ZIP codes. The program also helped cut new hospital admissions in the same population by eight percent.
Medicare defines readmissions as returning to the hospital within 30 days of the initial admission. Patient care transitions are increasingly problematic, and older patients with chronic illnesses often need care from a variety of practitioners in different locations. Unnecessary hospital readmissions affect 17.6 percent of all Medicare patients and cost $12 billion annually, according to a 2005 CMS study. The Medicare Payment Advisory Commission (MedPAC) estimates that up to 76 percent of these hospital readmissions may be preventable.
U.S. Sen. Michael Bennet, who was integral in ensuring that the care transitions model developed in Colorado was included in the Patient Protection and Affordable Care Act, also recognized the success of this community collaboration.
In a recorded message addressing the northwest Denver community, Senator Bennet stated, "You've proven that we can make smarter health care decisions and prevent seniors from taking needless trips back and forth from the hospital. You've shown that we can ease the burden on our health care system so that our doctors and nurses don't get bogged down treating preventable problems…You have actually done something that's making a difference for health care and for families."
Speakers also shared information about the Community-based Care Transitions Program (CCTP). CCTP, mandated by section 3026 of the Affordable Care Act, provides funding to test models for improving care transitions for high-risk Medicare beneficiaries. The goals of CCTP are to improve transitions of beneficiaries from the inpatient hospital setting to other care settings, to improve quality of care, to reduce readmissions for high-risk beneficiaries, and to document measureable savings to the Medicare program.
According to northwest Denver project participants, the community is considering applying for CCTP funding to support future efforts and help sustain and expand current work.
"This community has proven that collaboration can exist across the health care continuum, even among competitors, said Risa Hayes, CFMC project manager for the care transitions project. "Dr. Berwick's support and encouragement has inspired northwest Denver and others in Colorado to continue this important work in the future. Together we can improve health care in our communities."
For more information about the northwest Denver care transitions project, visit http://www.cfmc.org/caretransitions.
CFMC is the federally designated Medicare Quality Improvement Organization (QIO) for Colorado. CFMC's mission is to develop and offer an array of services that assist providers and consumers in the evaluation and improvement of health care. For more information, visit http://www.cfmc.org.
# # #