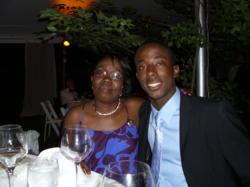 With the death of my son, I find some comfort in knowing that this lawsuit may bring about changes in fraternities that will prevent other families from suffering as I have.
Brooklyn, New York (PRWEB) June 28, 2011
Marie Lourdes André, the mother of deceased Cornell University student George Desdunes, filed a wrongful death lawsuit in Kings County, New York, against Sigma Alpha Epsilon Fraternity ("SAE"), its officers and members (case no.500460/2011). The suit seeks to hold SAE, its chapter officers and members responsible for his death by hazing as that term is defined generally, under the laws of the State of New York, and the Guidebook of Rights, Responsibilities, Requirements and Resources (the "Guidebook") of Cornell University.
The lawsuit alleges that early in the morning of February 25, 2011, George, of Brooklyn, New York, was kidnapped by fraternity pledges of SAE as part of a long-standing fraternity ritual. The lawsuit goes onto allege that the pledges bound George at his wrists and ankles with zip ties and duct tape. According to court documents, the pledges quizzed George about SAE and compelled him to consume alcohol until he lost consciousness and passed out numerous times. He required prompt, emergency medical treatment. Instead, the lawsuit alleges SAE pledges and members took him to the fraternity house, still bound at the wrists and ankles, and dumped him on a couch where he was left to die.
George was found later that morning by Cornell personnel, with zip ties still around his wrists and ankles. Court documents allege an SAE pledge tried to interfere with the crime scene by having the zip ties removed before police arrived. George's blood alcohol level was .409%, and his death was PRN buckslip for EmmaActive PRID 4057794/story #509310 /ref # 22736991 a result of hazing.
Marie Lourdes André is represented by Washington, DC attorney Douglas Fierberg, as well as William Friedlander and Charles Rappaport of New York. Mr. Fierberg is currently lead counsel in a number of other similar lawsuits across the country against fraternities and their members arising from fraternity hazing deaths, as well as lead counsel for family members of the professors massacred by Dr. Amy Bishop at the University of Alabama, Huntsville. He previously represented victims of the massacre at Virginia Tech University, and was responsible for negotiating the historic settlement with the Commonwealth of Virginia.
Concerning this lawsuit and his client, Mr. Fierberg states, "No person deserves the indignity of being bound and tied at the wrists, then plied with alcohol, rendered unconscious, and left to die as part of some fraternity ritual. George was a fine young man, raised to be so by his devoted, caring mother, Godparents, Queen of All Saints Roman Catholic Church, the Berkeley Carroll School, and this community. George's death has incited Marie to join the fight against fraternities, their dangerous rituals, and their refusal to stop activities that have killed at least one student every year for the past 40 years."
George's mother, Ms. André, states: "With the death of my son, I find some comfort in knowing that this lawsuit may bring about changes in fraternities that will prevent other families from suffering as I have."
George's Godparents, Dr. Robert and Dr. Mary Fischer, of Manhattan, New York, state: "Our family has known Marie for more than 30 years, since shortly after she came to this country from Haiti. She became a beloved part of our family, and we were blessed to become George's Godparents when he was born many years later. George was like a son to us, and a dear brother to our own children. His death has been devastating to Marie and our family. We hope this lawsuit brings attention to the dangers of hazing and spares other families from such suffering."
New York attorney William S. Friedlander, of Ithaca, states: "The purpose of this lawsuit is to hold fraternities and their members accountable for their actions. We want to send a message that this conduct will not be tolerated by our community. The secrecy that perpetuates these ritual abuses must end. Hazing is wrong, immoral and extremely dangerous to the well-being of the fraternity members. George left a mother devastated by the loss and will suffer for the rest of her life. This lawsuit is an effort to stop this conduct so that other parents will not have to grieve the loss of their child."
For further information go to http://www.schoolviolencelaw.com or http://www.friedlanderlaw.com.
CONTACT:
Amy Gorton
Tower PR
(310) 578-9943
agorton(at)towerpr(dot)com
# # #