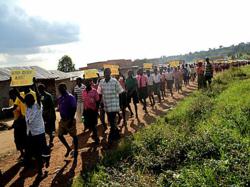 Los Angeles, CA (PRWEB) June 29, 2011
Community groups worldwide took advantage of the United Nations International Day Against Drug Abuse and Illicit Trafficking on 26 June to march, hold events, and forward the demand reduction message, a message which needs more support. Seconding the remarks of the Secretary General, Yury Fedotov, executive director of the UNODC, recently commented to the Security Council that there is a "global criminal enterprise" raking in hundreds of billions of dollars from illicit drug sales. Then there is the alarming rise of pharmaceutical drug use by children in the United States and Europe. There is lots of bad news, but the UN Day Against Drug Abuse offers up hope of good news.
The Narconon® network of 150 centers in 50 countries is well set up to carry forward the banner of drug-free living. Not just on the UN Day but year round, their drug educators lecture to hundreds of thousands of youth, and their civic organizers hold countless drug prevention community awareness events.
But there were very special events on UN Day Against Drugs. The heel of the boot in Southern Italy has long been mafia territory, plagued with drug sales and violence. But sixteen year ago, Narconon Gabbiano opened its doors to offer drug rehabilitation and prevention services. At first, the Meledugno city officials were suspicious of a 100-bed drug rehab facility in their backyard. But many, many lives have been saved since then and a lot of drug education delivered throughout the region. Now in honor and celebration of these good works and on the UN Anti-Drug Day, for good measure, Mayor Vittorio Poti inaugurated Piazza L. Ron Hubbard in his city to recognize Narconon and the humanitarian philosopher on whose works Narconon is based. There were also drug education talks across the country including a colorful drummers' event in Terni.
Elsewhere in Europe, Dr. Andor Nagi, Hungarian Member of Parliament and of the French Legion of Honor, inaugurated Hungary's Narconon drug rehabilitation center in the Nograd Region near Budapest. Other Narconon Hungarian civic groups operate year round, including sailing a "drug education yacht" around the country's largest lake to deliver drug education to young swimmers on the grassy lakefront.
In Uganda, the Narconon group held events in the Mityana and Mubende districts with a march through the town and drug education talks with the school children who then signed a drug-free pledge.
In Mexico, which is undergoing a crisis of escalating violence among 5 warring drug cartels, there are over 80 drug rehab centers along the whole west coast who, as part of what is called the "Narconon First Step," have been distributing hundreds of thousands of a booklet promoting common sense values, ethics, and integrity, called The Way to Happiness. And on UN Day several of these centers along with many city children marched along Mazatlan's beachfront to hand the booklet out to one and all. "Say no to drugs, say yes to life," chanted the children. President Narconon International, Clark Carr, who has worked extensively with these programs in Mexico, commented, "Not a bad message. Keep it up, kids. We're behind you."
For more information on Narconon drug education and civic work, please visit http://www.narconon.org, or call 1-800-775-8750.
###