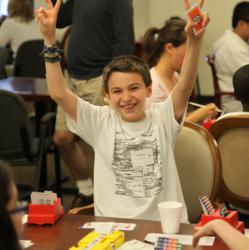 As soon as parents and educators learn about the educational and social benefits bridge instruction provides their children, they all say 'yes' to the program.
Horn Lake, Miss. (PRWEB) July 01, 2011
Proving that the game of duplicate bridge is one that spans generations, the American Contract Bridge League says more than 5,000 youth under the age of eighteen have participated in bridge education programs since January of last year. While bridge is often thought of as a mind-sport for retirees, throughout its lifetime there have been several youth movements that spawned some of the game's greatest players.
Founded in 1937, the American Contract Bridge League (ACBL) is the largest bridge organization in the world, supporting more than 165,000 players in North America and Bermuda. The ACBL first recognized outstanding youth play in 1973 with the introduction of the King/Queen of Bridge, an award to honor a youth player with an excellent tournament record and dedication to continuing youth education efforts. Previous winners include a who's who of champion bridge players such as Jeff Meckstroth, Bobby Levin, Brad Moss and Joel Wooldridge.
In 1988, the ACBL began the School Bridge Lessons Series in an effort to educate youth about duplicate bridge. Last year the ACBL spent over $150,000 on youth education efforts, with the School Bridge Lessons Series supporting 367 youth bridge classes by providing teacher lesson plans, student textbooks, t-shirts and trophies to every class.
Bridge enthusiasts, such as Atlanta's Patty Tucker, have joined forces with the ACBL in order to achieve their youth education goals. With financial support provided by the School Bridge Lessons Series, the ACBL Educational Foundation combined with funding from Duplicate Bridge Association of Atlanta, the local district and club, Atlanta Junior Bridge (AJB) was able to teach 17 classes in schools, 19 classes in other area locations and 22 summer camps last year in the Atlanta area.
"Through bridge instruction, children learn to develop logical approaches to problems, to face adversity through bad breaks or scores, and to overcome it," Tucker said. "They work with a partner towards a common goal and learn to adjust their behavior to fit into a framework of acceptable and non-acceptable behavior."
Similar programs have been developed in the state of New York by Long Island Bridge for Youth (LIBFY) and Bridge Union. Much like AJB, the LIBFY uses funds provided by the ACBL School Bridge Lessons Series and the Educational Foundation. Additionally they receive funding from their local Long Island Bridge Club. Founded in 2009 and utilizing volunteers, LIBFY's founder, Carol Mathews, facilitates classes each semester in four Long Island schools. Mathews sees LIBFY expanding to more schools when educators learn about bridge's benefits to its players.
"As soon as parents and educators learn about the educational and social benefits bridge instruction provides their children, they all say 'yes' to the program," Mathews said. "And if you give me fifteen minutes of the students' time to show them how fun bridge is, they'll all want to sign up for bridge club."
Having personally experienced the educational improvements the game provides to students, Bridge Union founder Mila Antonova, is dedicated to giving other students the same advantages she received by learning bridge.
"While growing up in Russia, I had a hard time concentrating and retaining information in school," Antonova said. "Thanks to a college professor introducing me to bridge, something magical happened. I started to learn more easily and gain confidence."
Antonova emigrated from Russia to New York City five years ago, and since founded Bridge Union, a non-profit focused on educating classroom teachers on how to provide bridge instruction to their students. In May, Bridge Union and the Manhattan Bridge Club co-hosted the first ever Manhattan Bridge Club Youth Tournament which had 50 student participants and nearly thirteen tables in play.
"I think the tournament was a success because at the end of the day there were happy teachers, happy parents, but most importantly happy children," Antonova said. "I've found a great support system of parents, teachers and other bridge players, and I'm eager to establish more youth bridge programs in New York City."
In Toronto youth bridge education has been part of the classroom for the past fifteen years, since Flo Belford became the ACBL District 2 Education Coordinator. With a start-up donation of $10,000 from the ACBL Educational Foundation and the continued financial support of the area's surrounding bridge Units, Belford is able to bring bridge education to more than 700 students per year on a $3,000 annual budget.
"I started teaching at one school in a district outside the city of Toronto over fifteen years ago," Belford said. "Now I have a team of twenty-two teachers that help teach bridge in twenty-eight schools in Toronto and the surrounding towns."
Attracting nearly 500 students to the District's annual spring youth tournament, Belford has seen a shift in the way schools utilize bridge instruction; moving from after school clubs into being predominately used as curriculum enrichment in the classroom. She feels this is largely related to a 2005 study that showed young bridge players out-scored their non-playing counterparts on the Iowa Test of Basic Skills.
"We're teaching bridge in towns that are two and four hours away from Toronto, and I only envision the program growing," Belford said. "Once we're teaching at one school in a town, more schools want to follow suit."
To learn about the American Contract Bridge League's youth education efforts, visit http://www.youth4bridge.com/learn
###