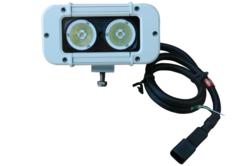 In our newest family of high powered LED lights for boats, we have really brought to bear our knowledge of optics, weather-tight construction, low amp draw efficiency and ease of installation
Kemp, TX (PRWEB) July 05, 2011
Larson Electronics' Magnalight LEDPB10W-20E LED Light Bar contains advanced LED driver circuitry and PWM technology which is used to produce a highly controllable and powerful compact lighting solution for boaters. Measuring only 4.8 inches long by 2.5 inches high, this 20 watt LED light bar is highly compact, yet produces 1,720 lumens of bright white light. Capable of throwing a 500 foot long light beam in spotlight configuration, this unit can also be configured with an external controller to dim, brighten, or produce a strobing flash. IP68 rated and waterproof to three meters, this unit is designed to resist the corrosive effects of the marine environment.
Designed to provide an extremely durable and versatile lighting solution for use in demanding environments, the Magnalight LEDPB10W-20E LED Light Bar has an extruded aluminum body, shatterproof Lexan lens, and stainless steel mounting hardware. Waterproof to three meters, this LED light bar can withstand the wind and water spray often encountered in marine environments without skipping a beat. The advanced drivers and PWM technology used in this unit allows users to connect this unit to external pulse width modulators or dimmer controls and cause the light to dim, brighten or produce a strobing light pattern. This PWM technology also acts as an active heat control, modulating the current fed to the LEDs according to LED temperature, thus eliminating the heat buildup that can destroy LED operational life. Using only 20 watts of power at 1.37 amps on a twelve volt electrical system, this LED light bar is extremely efficient and ideal for use as boat illumination where power management is critical. Small enough to fit where other lights will not, Magnalight also offers several mounting and power connection options, making installing this unit simple and easy. Available with a 20 degree spot beam configuration or a 40 degree flood configuration, this LED light bar is ideal for marine applications as well as use on vehicles, equipment and industrial installations. Multi-voltage capable, this light bar can operate on current ranging from 9 to 46 VDC, making it suitable for use on any vehicle or boat with a typical 12 or 24VDC electrical system. The Cree LEDs used in this unit are rated at 50,000 hours of operational life at which point they retain 70% of their output. Backed by a three year guarantee and constructed for extreme duty, the LEDPB10W-20E LED light bar represents the future of marine lighting.
"In our newest family of high powered LED lights for boats, we have really brought to bear our knowledge of optics, weather-tight construction, low amp draw efficiency and ease of installation," said Rob Bresnahan with Larson Electronics' magnalight.com. The LEDPB10W-20E and the entire family of low voltage LEDP10W lights have proven to be a solid replacement for high wattage quartz, halogen and metal halide lights that required generators. We have seen a tremendous response from commercial fisherman, drilling barges and other business oriented watercraft. Given the proving ground for these weather-tight LED lights, we know that these newer, compact lights will deliver for recreational boats as well."
Larson Electronics' Magnalight.com carries a full inventory of LED light bars, LED floodlights, LED spotlights and law enforcement LED tactical lights. View Magnalights' full line of lighting equipment by visiting Magnalight.com. Magnalight can be contacted by calling 1-800-369-6671 or 1-214-616-6180 for international inquiries.
###