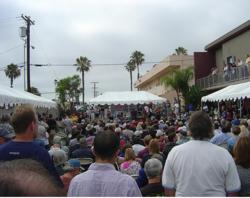 Oceanside, CA (PRWEB) July 01, 2011
Join us! Oceanside Photo & Telescope is hosting the 6th annual SCAE Astronomy Faire on Saturday, July 16th from 10am until 6pm. With dozens of exhibitors, over $40,000 in prizes and special savings, this is an event you don't want to miss. Oceanside Photo and Telescope is situated just a few blocks from the beach in Oceanside, located in the North County Coastal area of San Diego.
Four large tents will be set up in the parking lot for the event, and will be filled with over thirty-five manufacturers with full product demonstrations. Each will have representatives on hand to answer all of your astronomy and imaging related questions. See the latest and greatest telescopes and telescope accessories from Orion, Apogee, QSI, Takahashi, Tele Vue, SBIG, Canon USA, The Imaging Source, Stellarvue, Lunt Solar Systems, Meade Instruments, Discovery Telescopes, and Celestron, just to name a few. A full list of the attending and contributing manufacturers can be found at optscae.com.
OPT is also offering discounts on a huge variety of telescopes, eyepieces, cameras, and more at the Faire. Alternatively, those who cannot attend are welcome to shop online at optcorp.com or to call and speak with a telescope expert at 1-800-483-6287. Sale pricing will be honored from Friday, July 1st through Sunday, July 17th. Come by the Faire on the 16th to find special one day promotions. The OPT staff is friendly, knowledgeable and ready to help you get exactly what you need at a great price.
OPT is proud to represent such a wonderful array of astronomy product manufacturers, and they step up each year to donate great prizes for SCAE. This year the total value of these donations has topped $53,000! There will be two free giveaways during the day for adults, a free children's giveaway, and a paid raffle for a variety of high-quality prizes. Tickets for this raffle are $2 each and all proceeds will go to the Library Telescope Program. This program, headed by the New Hampshire Astronomical Society, is dedicated to placing a telescope in every public library. These telescopes are there to check out, just like a book, and be used for outreach and education. With nineteen libraries included so far, OPT hopes to give a big boost to that number with your help.
In addition to the prizes being given away at the Faire this year, OPT has chosen five of the top donations to be given away online. This very popular yearly contest is free to enter for anyone who is at least 16 years of age. Go to optscae.com and follow the links to register for your chance to win. All you have to do is share your best memory of the night sky and you could win one of five awesome prizes. Entries are accepted through midnight July 15th, and winners will be announced July 18th. For more information on SCAE, the giveaways, and anything else you have read here, visit optscae.com.
# # #