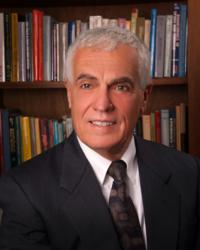 The World Acrobatics Society presents the the Lifetime Achievement Award for an individual's significant lifetime work and contributions specific to Artistic Gymnastics, Tumbling, Trampoline, Cheerleading and Diving.
Wilmington, DE (PRWEB) July 04, 2011
The World Acrobatics Society will be inducting Gerald S. George, Ph.D. into its "Gallery of Legends" at the 2011 National Congress of the World Acrobatic Society to be held at the Circus Circus Resort, Las Vegas, Nevada on September 22, 2011. Dr. George will receive the Lifetime Achievement Award for his work and contributions specific to Artistic Gymnastics, Tumbling, Trampoline, Cheerleading and Diving.
Dr. George is the author of the current international best-selling textbook "Championship Gymnastics: Biomechanical Techniques for Shaping Winners" published by Designs for Wellness Press. He is Professor Emeritus, Department of Kinesiology at the University of Louisiana, and a world-wide, respected authority in the biomechanics of sport. Dr. George has served as author, contributor and/or senior editor to over 10 textbooks and 120 article publications specific to gymnastics training and technique.
The World Acrobatics Society (WAS) is a non-profit, world-wide organization for the advancement of education, communication and cooperation among all individuals and organizations interested in fostering the growth, development and safety of the various acrobatics sports and preserving their histories. Major acrobatic disciplines recognized by the Society include Acrobatic Gymnastics, Cheerleading, Diving, Extreme Sports, Artistic Gymnastics, Professional Performers, Trampoline, Tumbling, and Contributors. At the annual meeting of the Society, selected individuals from the world of acrobatics are elected to its Gallery Of Legends.
This year's inductees are:
Gerald George - Lifetime Achievement
Lori Aamodt - Trampoline/Tumbling
Larry Banner - Contributor
Dominique Dawes - Artistic Gymnastics
Chad Fox - Trampoline/Tumbling
Bruce Frederick - Contributor (Posthumous)
Ken Kovach - Professional Acrobatics
Dana Kunze - Diving
Realis Duo - Acrobatic Gymnastics (Shenea Booth and Arthur Davis)
Karl Schier - Lifetime Achievement
Sean Tucker - Extreme Sports
Go to http://www.worldacro.com for more information and current updates on this event.
Dr. George is dedicated to helping gymnasts train, and gymnastic coaches teach, the most effective techniques to create championship winners. For helpful articles and videos on improving gymnastics techniques, visit his website, http://www.WinningGymnastics.com, or call 1-888-796-5229 (in U.S.) or 760-458-4993.
To secure Dr. George as a speaker/clinician at your club, workshop, or conference, contact scheduling agent Dr. Roy Vartabedian at 760-458-4993.
###