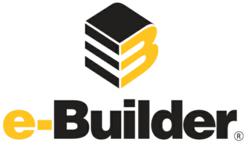 Our ability to positively influence the construction industry is the direct result of our dedicated network of clients.
Ft. Lauderdale, FL (PRWEB) July 07, 2011
e-Builder, on the heels of its 16-year anniversary, announced today that it has been named one of the 50 most influential construction technology providers. The Constructech 50, a listing of technology providers with a strong and ongoing market presence as determined by the editors of Constructech magazine. e-Builder is the number one provider of project management software catering to the needs of facility owners.
Companies are judged on a variety of criteria, including a strong product aimed at the construction industry, ongoing customer satisfaction and growth, as well as outreach and educational efforts for the construction industry, among others. So far in 2011 the company has launched two major upgrades to its industry-leading software, including a new construction mobile app for the iPad that was developed with input from the team at University of Texas Southwestern Medical Center; broad new enhancements to existing capital planning capabilities; and usability enhancements driven by direct feedback from clients.
"We are humbled by the recognition we've achieved, but our clients are very much a part of our success and should be recognized as well," said Jonathan Antevy, e-Builder CEO. "Our ability to positively influence the construction industry is the direct result of our dedicated network of clients who provide input so that we can continuously enhance our software as well as strong leadership within their organizations so that the software achieves its full potential."
About e-Builder
e-Builder is the leading provider of integrated capital program and construction management software for top facility owners and the companies that act on their behalf. The company's flagship product, e-Builder Enterprise, improves capital project execution, resulting in increased productivity and quality, reduced cost, and faster project delivery. Since 1995, e-Builder's technology leadership and construction industry focus has provided thousands of global companies, government agencies, and healthcare and educational institutions managing billions of dollars in capital programs with solutions to improve the plan, build, and operate lifecycle. The company is privately held and headquartered in Fort Lauderdale, Florida. For more information, visit http://www.e-Builder.net.
# # #