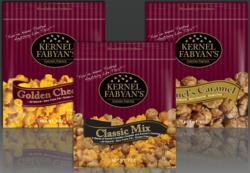 We responded to consumers by creating an All Natural choice, yet retaining the delicious gourmet taste.
Saint Charles, IL (PRWEB) July 07, 2011
Kernel Fabyan's Gourmet Popcorn announced today that sales have jumped over 100% since late May when the company launched a new formulation and packaging. The new All Natural and Gluten Free gourmet popcorn debuted at the May, 2011 Sweets & Snacks Show in a new, distinctively designed, re-sealable bag. The new product also contains zero trans fats, is made from non-genetically modified corn and uses no artificial preservatives. Yet, it retains the exceptional gourmet taste that consumers have come to expect from Kernel Fabyan's.
According to the May, 2011 Symphony IRI State of Snack Food Industry report, healthier snacks are outpacing indulgent options 4 to 1. This healthy journey that consumers are embracing is evident in Kernel Fabyan's recent sales figures. Consumers are now viewing snacks as an important part of a healthy eating plan. Snacks are viewed as "mini meals" on the go and these meals are sought after to provide nutritional value. Kernel Fabyan's new package design is effectively communicating this consumer health trend and the increase in product sales is the result.
CEO Richard Balance describes the importance of listening to the customer and the reward when you succeed. "Listening to consumers and understanding trends in their consumption and lifestyle habits is a valuable product development tool for Kernel Fabyan's. What we heard is a desire to live a healthier lifestyle. The obstacle for consumers is their busy schedule and lack of healthy snack options. This on-the-go lifestyle has created a blur between the boundaries of meals and snacks, so consumers are searching for better nutritional content in their "mini-meals." We responded to consumers by creating an All Natural choice, yet retaining the delicious gourmet taste. The new All Natural, Gluten Free and Zero Trans Fats product is a result of that commitment, innovation in production and dedication to uncompromised taste. We then communicated these attributes on our new re-sealable retail package and the result for Kernel Fabyan's is an astounding increase in sales. The reward is knowing that we are providing a delicious gourmet popcorn product that fits into our customers' healthy on-the-go lifestyle."
ABOUT KERNEL FABYAN'S
Since the opening of a single, modest storefront eight years ago in historic Geneva, IL, Kernel Fabyan's Gourmet Popcorn has been committed to delighting customers with the very best tasting gourmet popcorn. Today, the company has multiple store locations and its products are also available at fine retail stores. Kernel Fabyan's commitment to uncompromised quality and its innovative process continues to build on the company's heritage. Kernel Fabyan's offers a variety of distinctive gift tins as well as party favors, which can be personalized for any special occasion or for corporate gift giving. To share in the experience, please visit us in our stores or online at http://www.kernelfabyans.com.
Kernel Fabyan's Gourmet Popcorn - You've Never Tasted Anything Like This!
###