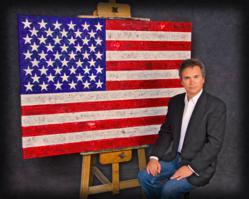 "Art has the power to create dialogue for a better future. I created this flag with a desire to focus public attention on this specific time in our history."
- Russell Parker
Palm Beach, Florida (PRWEB) July 13, 2011
When artist Russell Parker stood in front of Jasper Johns' "Flag" at the Museum of Modern Art, a sense of sadness came over him. Parker thought how the country had changed since Johns painted his iconic "Flag" over 56 years ago. He reflected on family life in the 1950's, when America was the most powerful nation with a prosperous middle class and "Made in the USA" was the rule, not the exception.
As Parker contemplated the beauty of Jasper John's work, he noticed the red drips of wax running down its stripes. Parker recalls, "It was almost as if the flag was bleeding. An image flashed in my mind, and I knew I had to paint a new American flag for our times and create a direct response to Mr. Johns "Flag"."
Parker rebuilt the flag out of torn material. Piece by piece. Trying to save it.
"Time is running out to solve our nation's many challenges," said Parker. "As I applied band-aids and gauze bandages to the work, I thought about our expansion of war, trillions of dollars in debt, unemployment and the continued shipping of jobs overseas, the healthcare crisis, foreclosures, crumbling infrastructure, cuts in education and the arts, increasing poverty and the rising anger many Americans are experiencing. There is much at stake. We need to stop the bleeding. Our country needs to heal."
Parker named the painting "1000 Cuts after Johns."
The artist aims to spark a national dialogue that would inspire our country's leaders and citizens to set their differences aside and come together to create solutions at this critical point in our history.
When asked his plans for the painting, Parker responded, "Art has the power to create dialogue for a better future. I created this flag with a desire to focus public attention on this specific time in our history. It is my intention to present it to The Museum of Modern Art in New York City for consideration. It would be the greatest honor to exhibit with Jasper Johns' Flag and contrast the two paintings. It would give our nation a time to pause and reflect from a historical perspective. I'd name it, "Two Flags: An American Journey – Two Stars and 56 Years Later."
"1000 Cuts After Johns": 61 ½" x 43" Encaustic, Oil, Band-aids, gauze, torn fabric on Masonite Panel.
About the Artist:
Russell Parker is an award - winning Branding and Media Strategist. Throughout his career, Parker has consulted and created thought provoking campaigns for his clients from Fortune 1000 companies, professional sports teams and many small businesses, in addition to political consulting for Presidential and Congressional Candidates. He brings the same passion to his art with views on social, political and cultural significance. He calls it art beyond the obvious.
Contact: For more information contact Nancy Parker 561-702-4174 or nparker(at)currentmarketinggroup(dot)com
Photography by Angelo A. Panozzo - Moya Photography, Palm Beach, Florida
###