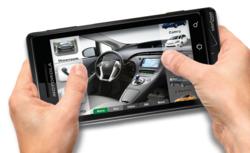 Quality apps provide long term relationship channels with the customer
Minneapolis, MN (PRWEB) July 12, 2011
AutoMotionTV has released a new version of it's AutoMotionTV Dealer App platform. The app creation platform allows dealers to create interactive mobile apps for Apple's iOS and Android based mobile devices. "The number one advantage of mobile apps is long term relationship potential with the customer", states Ben Anderson, AutoMotionTV president. "Our newest version includes a full multimedia brochure experience, live inventory, service scheduling, live chat, social media tools, reporting and more. We've created a mobile experience for the customer pre-sale all the way through post-sale."
Enhanced analytics included in the new version give dealers detailed reporting options such as in-app user behavior and user action metrics.
AutoMotionTV not only creates mobile apps for dealers, but assists in promotion. AutoMotionTV works hand in hand with dealers when launching a new app to ensure apps get into thousands of customer's hands.
Getting started with the AutoMotionTV Dealer App is simple and cost-effective. Apps can be launched within a few weeks and can be customized to suit specific dealer needs.
"Quality apps provide long term relationship channels with the customer," said Ben Anderson. "We provide a simple, cost-effective, mobile app solution that helps dealers drive more sales and service revenue from mobile."
###