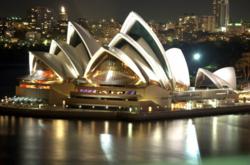 It offers instant booking for the best hotel deals available for the next 90 days. These are reservations at extremely competitive rates, on a huge variety of accommodations.
Los Angeles, CA (PRWEB) July 18, 2011
Last minute booking with very affordable prices? It hardly seems possible, but the new "Need It Now" service at PacificIslands.com has turned the rules upside down for finding hotel accommodations in Australia and New Zealand.
"This unique new service makes Australia and New Zealand easy to book and easy to afford," announced Jean-Patrick F. Mouflard President of PacificIslands.com. "It offers instant booking for the best hotel deals available for the next 90 days. These are reservations at extremely competitive rates, on a huge variety of accommodations. Need It Now is one more way we are striving to make PacificIslands.com the ultimate travel site for the Pacific."
The Need It Now program features over 2,500 properties in Australia and over 700 in New Zealand.
"It's not just hotels," points out Mouflard. "There is a great range of accommodations. From hotels to apartments to luxury resorts to bed-and-breakfasts, you can find a place to suit almost any taste." Many of the locations feature special incentives such as free nights – three nights for the price of two, or seven nights for the price of five – in addition to highly competitive basic rates.
The Need It Now system enables instant booking/instant confirmation for many deals. It allows travelers to set an itinerary easily and quickly, without guesswork or juggling. For locations that are not available instantly, PacificIslands.com will confirm the booking within 24 hours.
"Another advantage of instant online booking is that it saves us time, too," explains Mouflard, "so we can focus our resources on finding more great deals and hot properties for our customers."
Need It Now booking works seamlessly with PacificIslands.com's 'complete service' approach to Pacific travel. In addition to hotel deals, the site features easy, fingertip airline booking with a multi-destination Air Booking Engine that allows for the creation of complete itineraries, including very attractive promotional air fares. The site is also packed with information on destinations, to make planning easier and travel more rewarding.
PacificIslands.com is the ideal gateway not only for Australia and New Zealand, but also the Cook Islands, Fiji, Samoa, Tahiti, Tonga, and Vanuatu. More destinations will soon be added, including New Caledonia, Niue, the Solomon Islands and Papua New Guinea. Travel is easy to set up by destination, by airline, by resort, or by booking a convenient package plan. From simplicity to luxury, central to remote, relaxing to exciting, private wilderness reserves to five star hotels, virtually any taste in vacation style can be satisfied.
"This is a part of the world that I love and want to share," explains Mouflard. "We made the process of booking easy, so that people will be free to go and explore it. We've also gathered a wealth of information about each destination, what makes each place tick, to encourage people to see new things. The Need It Now service is a terrific addition to that concept. It's not just for people who suddenly need to travel, it's also for that sudden urge, that moment of inspiration. If you feel that delicious itch, that impulse to explore, we want to make it happen."
About PacificIslands.com
PacificIslands.com is a unique, customer-focused travel agency specializing in bringing the magic of the South Pacific Islands within easy reach. It was conceived in 1998 by Jean-Patrick Mouflard, born of his passion for this unique and mysterious part of the world. Incorporated in 2008, the company partnered with Tahiti Nui Travel, a major travel corporation in French Polynesia, in 2009. The beta version of the site launched in May 2010, and was opened to the trade and the public in August 2010. In June 2011, the redesigned PacificIslands.com debuted, offering more options and easier access, offering the pacific at the speed of a click.
###