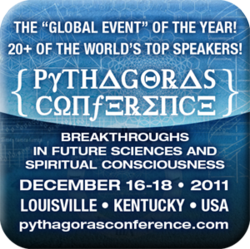 BREAKTHROUGHS IN FUTURE SCIENCES AND SPIRITUAL CONSCIOUNESS
Louisville, KY (PRWEB) July 11, 2011
Pythagoras Conference Global, a brand new and highly unique global annual event to be held this year – December 16, 17 and 18 – at The Galt House, the prestigious five-star venue located in Louisville, Kentucky, USA.
Pythagoras Conference Global represents a global think tank and will be presenting over twenty of the world's top speakers and experts in New Physics, Renewable Energy, Exopolitics, New Science, Archeology, Social Science & Bio Economics, Consciousness Studies, Astropaleology and Metaphysics, just to start. They will be coming together with a common goal of creating real change for the future of Humanity.
This Conference's concept is truly unique as there is no other event that has tried to bring such a diverse group of people together in this way. Pythagoras himself is often revered as a great mathematician, mystic and scientist and is best known for the Pythagorean Theorem; he was also a great seeker of knowledge. "This is the under current of this new Global Conference, bringing the best speakers in their respectable fields together to share their knowledge with others also seeking answers to their own inner questions," says Sandra Sabatini, event creator. What is the truth? And just how can we create real change with this knowledge that we learn?
Pythagoras Conference Global will feature, Guest Speakers and VIP Workshop Presenters including Dr. David Lewis Anderson, Dr. Brooks Agnew, Dr. Florin Munteanu, Dr. Edward Close, Stephan Schwartz, Heather Caton MSW, Alfred Webre, Andrew D. Basiago, Stephen Bassett, Antoine Gigal, Richard Dolan, George Haas, Kerry Lynn Cassidy, Gary Voss, Laura Eisenhower (great-granddaughter of President Dwight D. Eisenhower), Sonia Barrett, James Moroney, Kim Carlsberg, Fritz Zimmerman, Miriam Delicado, Gary Evans, Foster Gamble, Kimberly Carter Gamble, Goa Lobaugh, Rick Osmon, and Madame X. Additional speakers will be announced.
We thank you and invite you to visit the official web site http://www.PythagorasConference.com to learn more about ways you can support and purchase your tickets for this amazing event today. Find us on Facebook: http://www.Facebook.com/PythagorasConference,Twitter: http://www.Twitter.com/PythagorasCon, and YouTube: Pythagoras Conference YouTube Channel. We look forward to seeing you.
For all press or media requests, please contact:
PCG Media, LLC.
ATTN: Media Relations Manager
Phone: (502) 272-0130/ Fax: (413) 328-6227
E-Mail: Info(at)PythagorasConference(dot)com
# # #