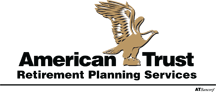 "As our economy struggles forward, employers and their employees continue to seek confidence in the quality and value of our 401(k) plans," said Kurt Wedewer, American Trust executive vice president and division manager.
Dubuque, IA (PRWEB) July 13, 2011
American Trust scored number five nation-wide for net percentage of increase in participants (20.7%), number seven for net percentage of increase of assets (31.0%), and number eight nation-wide for net increase in plans (19.5%).
Published in June, 2011, by Asset International, Inc., PLANSPONSOR'S 13th annual survey questionnaire was distributed to providers of full-service and unbundled recordkeeping for defined contribution plans. The questionnaire asked for approximately 290 data points pertaining to each provider's assets, number of plans and participants in various plan size and type categories, as well as product and service capabilities. The resulting rankings are based on qualifying results from 74 complete responses and measure percentages of increase at December 31, 2010, over December 31, 2009.
Launched in 1993, PLANSPONSOR magazine is the nation's leading authority on retirement issues and benefits programs. PLANSPONSOR.COM provides comprehensive news and commerce services dedicated solely to helping employers and financial advisors navigate the complex world of retirement plans and benefit programs on behalf of their employees or clients. For more information see http://www.plansponsor.com.
American Trust Retirement Planning Services is a division of the American Trust & Savings Bank Financial Management Group whose assets under management exceed $1.4 billion, and a subsidiary of ATBancorp, Inc., a $941 million bank holding company. Headquartered in Dubuque, American Trust has 10 full-service bank offices in the Iowa communities of Dubuque, Dyersville, and Farley, and an office in West Des Moines at 9350 University Avenue. It also offers retirement planning and wealth management services with an office in San Mateo, California.
# # #