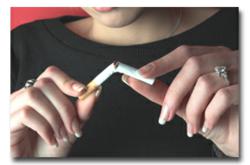 Laser therapy for smoking cessation is the most effective and least invasive way to quit smoking...
New Haven, CT (PRWEB) July 18, 2011
Innovative Laser Therapy LLC is Connecticut's first dedicated smoking cessation clinic to offer low-level laser therapy to help people quit smoking with just one treatment.
"Laser therapy for smoking cessation is the most effective and least invasive way to quit smoking," says Frank Pinto, former smoker and owner of Innovative Laser Therapy. "Laser therapy has a greater sustained success rate than current smoking cessation products with no pain or side effects and most people only require one session."
After 35 years of use internationally in Europe and Canada, low-level laser therapy for nicotine addiction is now available through clinical research trials in Connecticut. Innovative Laser Therapy utilizes a proven treatment protocol that has been used by laser treatment centers all over the world to help people quit smoking.
Innovative Laser Therapy uses one of the most powerful Class 3b lasers in the industry and is FDA cleared for pain, arthritis and carpal tunnel syndrome. The laser is a low-powered (cold) laser no more powerful than a light bulb; is non-invasive and drug free.
Nicotine releases endorphins, which are the natural chemicals in the brain associated with the spontaneous relief of pain and stress. When a person quits smoking, a sudden drop in endorphin levels leads to withdrawal symptoms of stress, tension and anxiety.
Studies have demonstrated that Innovative Laser Therapy's procedure helps promote the release of endorphins which in turn reduces cravings, stress and symptoms related to nicotine addiction withdrawal. The low-level laser therapy operates on the principles of acupuncture to alleviate symptoms which occur when quitting smoking. During a session, the laser is applied to specific points on the ears, face, hands and wrist which are associated with addiction and appetite suppression.
Innovative Laser Therapy founder, Frank Pinto, is a Licensed Clinical Social Worker who specializes in mental health and addictions. He is also certified by both the American Lung Association and the American Cancer Society to provide proven behaviorally based protocols designed to help people quit smoking.
For more information, please visit http://www.InnovativeLaserTherapy.com
Contact:
Frank Pinto LCSW
846 State St.
New Haven, CT 06511
203-400-QUIT
info(at)innovativelasertherapy(dot)com
###