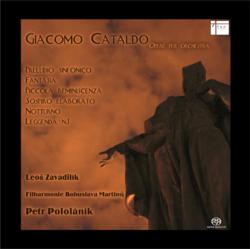 "Cataldo's music is immediate and uncontrived, intensely lyrical, taking off with fiery vivacity - spontaneously explosive, sometimes giving way to a mood of elation." - Opus Musicum
(PRWEB) July 19, 2011
On the 15th of July 2011 Aion Techni proudly unveiled its inaugural release. Aion Techni is a new independent classical record label with an emphasis on new music and underexposed repertoire. The label will also focus on promoting new and upcoming performers. For its first release the focus will be on a collection of orchestral works by composer Giacomo Cataldo featuring the Bohuslav Martinu Philharmonic Orchestra conducted by Petr Pololáník and with the participation of violin soloist Leoš Zavadilík.
These recordings of Cataldo's music preserve the excitement of their world premiere performance which took place at the Dům umění (House of Arts) in Zlín (Czech Republic) in the presence of the composer. The proceeds from that concert were donated to benefit UNICEF's immunization programs.
The new works were enthusiastically received by press and public alike, and with this release will be diffused to the world audience.
Video of the live performance is available in full for viewing on Aion Techni's Youtube channel.
Aion Techni is commited to producing recordings of the highest quality and making use of the most advanced technology available. Opere per Orchestra will be available as a hybrid SACD, playable on all regular cd players but providing a high resolution audio stream for SACD enabled players, available both in stereo and 5.1 multichannel. Apart from audiophile manufacturers, all new Sony Blu-ray players support the SACD format as does the PS3.
The release is available from the Aion Techni store at http://www.aiontechni.com
###