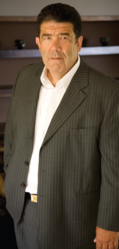 So many needy projects and so little time.
--Victorino Noval
Beverly Hills, CA (PRWEB) July 19, 2011
Victorino Noval, the philanthropist who established the Victorino Noval Foundation, is pleased to announce that he has embarked on a number of new community development projects and media projects.
About The Victorino Noval Foundation
The Victorino Noval Foundation works to promote economic trade and cultural exchange between Cuba and the United States. The foundation was created by Victor Noval in memory of his father, Victorino Noval, Sr., a Spanish-born businessman who lived in Cuba for much of his life. Under Noval's leadership, the Victorino Noval Foundation has also been a supporter of the Children's Trust Fund and was a recent sponsor of the "Spark of Love" toy drive in Beverly Hills. For more information, please visit the Victorino Noval Foundation at VictorinoNovalFoundation.com or VictorinoNovalNews.com.